Beaded Buckskin Shoulder Bag: Online Course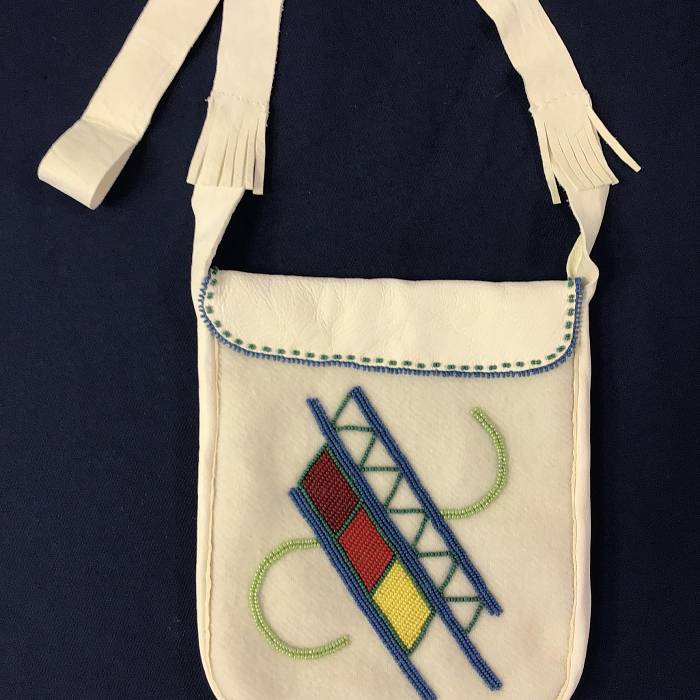 Course Overview
Traditional beadwork is widely practiced in Grand Portage, Minnesota where for generations it has enlivened the lives of Ojibwe people. Growing up in a family of beadworkers, Marcie learned by watching her mother, and today is a traditional artist specializing in Ojibwe (Anishinaabe) beadwork. She also operates her own gallery and exhibits her work throughout the country. 
This beautiful buckskin shoulder bag is made with deerskin, wool fabric, and cotton fabric. Students will learn traditional Anishinaabe-style bead embroidery to create designs on wool fabric and beaded edgings on deerskin. This class will also cover leather hand-sewing. Marcie will send students most of the materials needed for creating the bag.
Required Tools
Matches
Scissors
Common pins
Pliers
Pen or pencil
Paper
Good lighting
Optional Tools
 Reading glasses or magnifier
Session Information
Registration for this course closes on October 11 so the instructor has time to mail out materials. 
Dates
Wed, Oct 25th, 2023 – Wed, Nov 8th, 2023
Course Details
Hours:
6-9pm CT; Three Wednesday evenings, October 25th, and November 1st, and 8th.
Tuition:
$140.00
Materials fee: $110.00
Latest Update:

View recent changes →
Beaded Buckskin Shoulder Bag: Online Course