Kate Hartman
Kate first learned to knit in high school. Since then, she has explored a variety of knitting traditions, including both the English/American and Continental knitting techniques, lace knitting, Aran, and the multi-colored Fair Isle and Scandinavian techniques. Kate enjoys making sweaters, socks, mittens, and other garments in a variety of styles and materials, using many of her own wheel-spun yarns. She likes teaching and believes that enjoyment and enthusiasm are necessary as adults learn a new craft. Kate currently resides in Madison, Wisconsin, and has the good fortune of to be married to a knitter/spinner.
Current Courses Offered by Kate Hartman
2 Days
Help Yourself To Knitting: Beginning Knitting Class
This class is an enjoyable, two-day beginning knitting class that focuses both on basic stitches and skills, and on recognizing and correcting common mistakes that often frustrate the beginner. Topics include essential knitting skills, yarn basics, and pattern reading. You will be provided with a introductory book, one pair of…
Thu, Oct 17th, 2019 – Fri, Oct 18th, 2019
9am-5pm
0.25 Days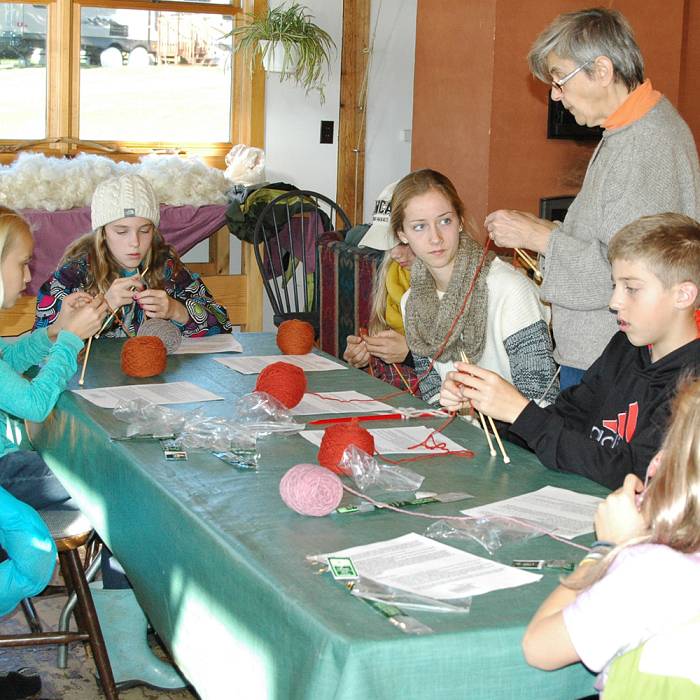 Kids Knit!
Get started on a lifelong hobby by learning the basics of knitting. Expert knitters and very patient teachers Allen Holzheuter and Kate Hartman will help kids learn how to maneuver those needles and have them knitting by noon. Kids can be accompanied by an adult (even old dogs can learn…
Sat, Oct 19th, 2019
9am-11am
Sat, Oct 19th, 2019
1pm-3pm
---
Past Courses Offered by Kate Hartman