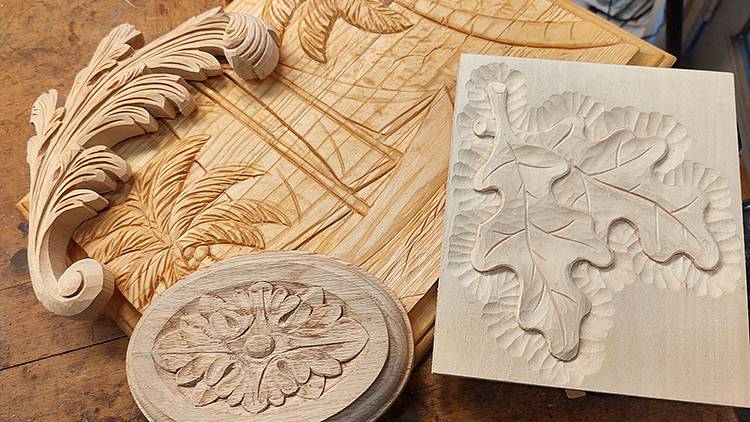 Overview
Thanks to everyone who joined us for the digital "Wood Month" in 2021. Here's hoping we will be gathering in person for the traditional Wood Week March 14-21, 2022. Coursework and details will be announced in late October 2021. Subscribe to North Hous's email newsletter to stay up to date! Here's a look back at 2021:
Wood Week has become Wood Month this year! Join us in the virtual woodshop for a series of presentations from near and far. We'll explore technique, cultural history, tools and interesting current work. Thursday evenings and Friday mid-days on Zoom. BYO wood shavings!
Many of these programs will be recorded and archived here to view anytime. Take a look for any programs you missed or want to revisit.
Event Details
Free Webinars & Lunch and Learns
Evening Presentation: With Ready Hands: Exploring the Interplay of Technology and Craft with Joshua A. Klein, editor of Mortise and Tenon Magazine
Thursday, March 4. 7pm CT
We live in a technological world. With our smartphone ever at hand and humanless kiosks all around us, we find ourselves enmeshed in the realm of mechanization and automation. Even those of us "crafty-types" who seek refuge from the madness within the walls of our workshops sometimes find that even this sacred place is not immune to technology's pull. Without a firm grasp of the nature of our tools and technologies, we are destined to feel lost and overwhelmed. We would do well to ask ourselves some fundamental questions:
What are we as craftspeople to understand by the word "technology?" How does it relate to our tools and the work of our hands? Practically speaking, how is machinery distinct from hand tools? And most importantly, how do our tools shape us as we use them? By drawing on astute observations from philosophers, historians, and anthropologists, Klein will explain how the themes of technology criticism and embodied engagement play out for him at the bench – it's his philosophy of the woodshop.Join us for a deeper look into this important discussion.
Register in advance for this webinar
Lunch and Learn: Traditional European Woodcarving with Mary May
Friday, March 5, Noon CT
Join prolific instructor Mary May for a presentation from her studio. She'll cover the basics-- her tools and techniques, as well as a bit of sharpening.
European trained woodcarver, Mary May, has been carving for over 30 years and currently works out of her studio in Charleston, South Carolina, specializing in traditional, classical woodcarving. She takes on carving commissions from furniture makers, designers, and architects as well as creates her own designs. Mary teaches woodcarving at a variety of schools throughout the US and Europe and has her own online, video-based carving school - www.marymaycarving.com. She recently completed her first book, Carving the Acanthus Leaf (published through Lost Art Press), and has written articles for Popular Woodworking, Fine Woodworking, Woodcarving Illustrated, and the Society of American Period Furniture Makers. Mary has also appeared as a guest on Roy Underhill's PBS Show, The Woodwright's Shop four times. Her desire in all that she shares is to help keep this beautiful and traditional art alive and vibrant.
Register in advance for this webinar
Evening Presentation: Understanding the Nuances of the Drawknife with Curtis Buchanan
Thursday, March 11, 6pm CT
Chairmaker Curtis Buchanan will discuss this essential woodworking tool in-depth, covering what to look for and how to refurbish an old drawknife, the advantages/disadvantages of a bevel up and a bevel down drawknife, and how to use a drawknife to shape a chair spindle.
Curtis Buchanan makes Windsor Chairs in much the same way they were made 200 years ago. His small, one-man shop is located in Tennessee, in the heart of Jonesborough's Historic District. He has published numerous articles on chairmaking and has taught at numerous craft schools. His chairs are in the permanent collection of the Tennessee State Museum, the Southern Highlands Craft Guild, the Tennessee State Governor's Mansion and Monticello, the home of Thomas Jefferson.
Register in advance for this webinar
Lunch and Learn with Barn the Spoon
Friday, March 12, Noon CT
Barn Carder will join us from his home in The Forest of Dean to chat about his work carving and selling wooden spoons, and the community that has grown around green woodworking. Barn is the 2020 Wille Sundqvist and Bill Coperthwaite Slöjd Fellow. Bring your lunch to listen in, and don't forget your wooden spoon.
Barn (better known as Barn the Spoon) became a full time Spoon carver in 2008, growing a tiny business that started out as some precious knowledge of trees, along with an axe and a knife in his pack. He set himself to carve out an ancient living in a modern world. He now runs a shop and craft school in London UK, as well as an online learning resource Spoonclub. Barn has had the privilege of wonderful teachers, spending the last 25 years sharing the joy of learning woodcraft with teachers, students, peers and friends alike.
Register in advance for this webinar
Lunch and Learn with Julia Kalthoff of Kalthoff Axes
Friday, March 19, Noon CT
Julia Kalthoff is on a quest to determine the details that make the difference between good and bad axes. The journey started when she fell in love with forging at Gränsfors Bruks at the age of nineteen, and went on to learn about all things axes at Wetterlings, where she managed the small factory for five years. She'll share some of what she's learned along the way, from the history of axes to her research with carvers and metallurgists, culminating in a tour of her small-scale workshop where she produces highly coveted axes.
Register in advance for this webinar
Documentary:A Spoon Carver from Outou Village Mr. Kaoru Atarashi (30min) - Film Screening and Discussion with Jarrod Dahl
Thursday, March 25, 7pm CT
Join us to watch this fascinating short documentary filmed in 2006 in Nara Prefecture. After the fim Jarrod will lead a short discussion about the film and share photos of spoon carving tools and a few spoons he brought back from his travels to Japan in 2018 and 2019.
Since at least the 19th century, Ootou village was famous for wooden ladle production. When the production was at its peak, all the houses in the village engaged in ladle carving, and supplied to Osaka, Kyoto, and Nara. The staple food in this area was rice porridge so the ladle was an essential item for their daily life.
Chestnut was the main material for ladle carving. Chestnut is easy to split and has strong water-resistant property because of its tannin. Ladles used to be made all over Japan and they used locally available material. Popular species for ladle in other places were Hoonoki (magnolia), Tochi (horse chestnut), Yamazakura (cherry).
Kaoru Atarashi was born in 1927 and was the fifth generation spoon carver. He started carving ladles in 1946 at 19 years old. Up until 1970, the ladle carvers of the village used a small barn in the forest where they worked and lived. They moved from place to place in search for material. They would travel back home only 4 times a year. This type of itinerant woodworkers were called Kijishi. There were also Kijishi who were woodturners. The Kijishi at one time practiced all over Japan.
When he was young, there were 60 families in his community and 80 families in the nearby community that were all engaged in ladle carving.
In 1970 He set up his workshop at his home.
At Ootou village, one carver produced at least 100 ladles a day. They worked from 5 am until 10 pm. The story goes that ladle carving was such hard work that the carvers died while resting their body on the chopping block.
Register in advance for this webinar/screening
Lunch and Learn with Daniel Lundberg: Storslöjd
Friday, March 26, Noon CT
Daniel is a Swedish woodworker who likes to turn on the pole lathe and make shrink pots and other things. He's worked a fair deal with building preservation on old log homes in the north of Sweden and carries that over into his process and objects. He likes to work with big sharp axes, bold hewn surfaces and takes every chance he gets to use his precious chainsaw. He'll share his recent work and discuss his current project to shine a light on what a slöjdare or craftsman actually is and does in this day and age.
What interests me is process and technique - simple and unconfused forms. I'm not all that talkative so I try to make my products as loud and undeniable as possible so they can speak clearly for themselves. I'm inherently rather lazy. Thus I tend to always seek the most direct and efficient way to perform a task. The result is what counts so the aim is to make my process a straight line and spend a lot of energy and thought on - cutting away corners -trimming away fat, fuss and frippery. Figuratively and literally.