What's This Rock 3? Southern North Shore's Geological Story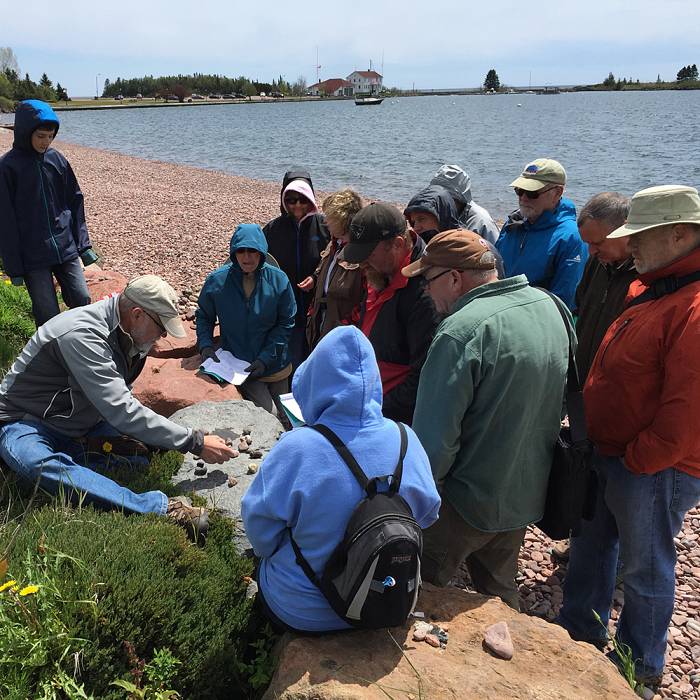 Course Overview
How many times have you walked along a cobbled beach or a rocky ledge along the North Shore and wondered, "What's this rock? Where did it come from? Why is it here?" Well, lace up some sturdy footwear and head into the field to be immersed in the fascinating geology of the southern part of Minnesota's North Shore with UMD emeritus geology professor Jim Miller. This is a newly added third part of the "What's This Rock?" series* that will focus on "reading the rocks" between Silver Bay and Two Harbors. Like the other WTR courses, the geology of this area tells the billion-year-old story of fire and ice that created the Lake Superior basin. An introductory lecture on Friday evening (at Tettegouche State Park Visitor Center) will introduce you to basic geologic terms and principles that will help us interpret the geologic story of the area. On Saturday, we will visit various rock exposures between Two Harbors and Silver Bay that illustrate the story of lava eruptions that spilled across a vast barren landscape over one billion years ago. We will also investigate sediments and landforms formed by enormous continental glaciers that carved out the Lake Superior basin over the past two million years. On Sunday morning, we hike around Tettegouche State Park and examine its diverse geology. Students ages 8-15 are welcome to enroll with an adult (call for a 25% intergenerational discount); ages 16 and up can enroll on their own.

*The three courses in the "What's This Rock?" series do not need to be taken sequentially nor are they prerequisites to each other.

This course will not be based at North House Folk School. Instead, the instructor will meet the students at Tettegouche State Park Visitor Center, which will serve as the homebase for the course. Students will need to make lodging arrangements in the Western Cook County/Silver Bay/Two Harbors area. At this time, we are not able to provide group transportation; our hope is that this will be available for an additional fee to reduce the driving necessary for this course, but pandemic conditions at the time will define this option. This course does not require a state park sticker.

Most of the field trip stops will be visiting roadcuts along Highway 61 or rock exposures along or near the shore. The latter will involve short hikes, less than 1/8 mile, along gravel footpaths or along cobbled beaches. Sturdy footwear is strongly recommended.
On Sunday morning, we will make a two-mile round trip geologic hike through Tettegouche State Park. This will involve a bit more sustained rigor and should be considered optional. Later that morning, rock collecting activities will focus on the cobble beach along the mouth of the Baptism River.

Required Tools
Sturdy footwear
Rain gear
Hat
Water bottle
Lunch for Saturday
Optional Tools
Camera
For safety reasons, rock hammers are not allowed
All participants will be given a high-visibility orange vest to wear during highway field stops

Dates
Fri, Sep 30th, 2022 – Sun, Oct 2nd, 2022
Course Details
Hours:
Day 1: 4-7pm; Day 2: 9am-5pm; Day 3: 9am-2pm
Tuition:
$220.00
Materials fee: $5.00
What's This Rock 3? Southern North Shore's Geological Story