West Greenland Skin-on-Frame Kayak: Build Your Own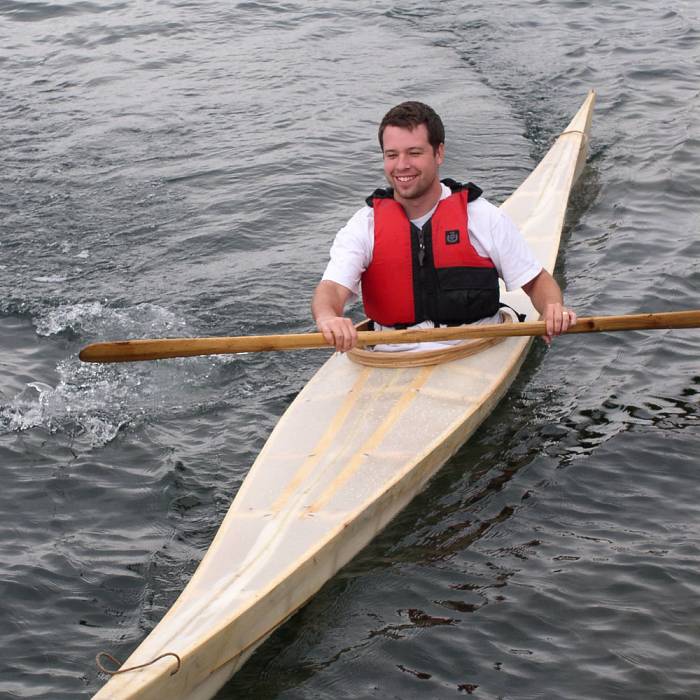 Course Overview
This course is for individuals with a strong interest in creating a seaworthy craft with their own hands. The Inuit kayak from Greenland is a fast and responsive craft designed for hunting but just as suitable for today's more common recreational purposes. Students will design their own craft to fit their body size. Begin by laying out and cutting mortises. Kerf together the compound miter at the gunwale ends, and lash the deck beams into place. Steam bend ribs and cockpit coaming, then lash the longitudinals into place. Sew a watertight seam along the entire length of the deck. Kayaks will be constructed of Eastern white pine, white cedar, white oak, white ash and covered with 9 oz. urethane-coated nylon for a bomb-proof skin. Kayak length may vary from 14' to 18' depending on your preference. Students are encouraged to bring a partner to assist them as this course can be a great family project. This course is open to students ages 14+.
Phil and Brian have many years of experience teaching youth to build a variety of skin-on-frame boats for Urban Boatbuilders. They are excited to bring their considerable knowledge, experience and enthusiasm for beginning and advanced boatbuilders to the North House workshop.
The instructors will consult with each student four weeks prior to the start of the course to assess materials for the length of the intended boat to be built in this course. Material costs may vary given market prices and will be determined at that time. Each student will be expected to reimburse an additional $750-$850 (approx.) for materials at the onset of the course. Separate tuition payment and cancellation policies apply to this course.
Materials Fee
Approximately $750-$850 payable to instructor upon arrival
Required Tools
Cross cut saw/Japanese or folding saw preferable
Cordless drill
Assorted bits (1/4" – 1/16")
Combination square
16' tape measure
8 – 3" "C" clamps
6 – 2" spring clamps
Pair of leather gloves for hand protection when lashing
Several pencils
Life vest or PFD
Optional Tools
Feel free to bring your favorite tools and whatever materials you might feel appropriate for this course.
Spoke shave
Sliding T bevel
Eye and ear protection as desired (available @ North House School Store)
1/4" and 3/4" chisels
Half round file or rasp
Mallet or hammer
Countersink for a drill
Carving knife (available for purchase @ North House School Store 888-387-9762)
Low angle block plane
Cancellation Policy
Given the unique nature and small size of this course, please note that North House uses separate tuition payment & cancellation policies for managing this course. The intent of these policies is to ensure that all students can be confident that the course will occur as planned once adequate enrollment is achieved. Specifics of these policies are as follows: upon enrollment, a registration deposit of at least 1/3 of the course tuition is required, more than sixty (60) days prior to the course all but $50 of the registration deposit is refundable, sixty (60) to thirty (30) days prior to the course the entire registration is nonrefundable, at thirty (30) days prior to the course the balance of the tuition payment is due all of which is nonrefundable. Should North House be required to cancel the course, all tuition payments will be refunded.
Dates
Mon, Jun 20th, 2022 – Sun, Jun 26th, 2022
West Greenland Skin-on-Frame Kayak: Build Your Own