Timber Frame: Build Your Own Smaller Frames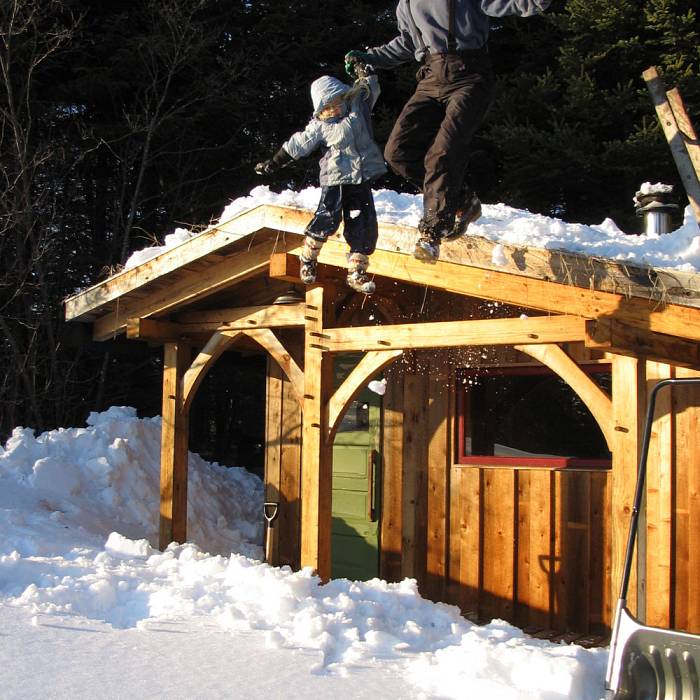 Course Overview
Tired of unimaginative, small outbuilding kits available from your local lumberyard? Explore all the basic elements of timber frame construction and take home a hand-crafted building. More than 100 timber frame buildings have been built and raised throughout the country by North House students since 1997.
During the first days of class, participants engage in interspersed lessons on timber frame terminology, layout, and joinery. As the course progresses, each day prioritizes students actively cutting timbers for their structure. Ultimately, students complete all or most of the joinery on the structure and develop timber framing skills that will last a lifetime. Near the completion of the course, a raising rehearsal demonstrates pre-assembly and raising techniques. All that's left is to load the timbers into a truck or trailer and then raise the frame at home.
The Build Your Own course emphasizes smaller timber frame structures that can be completed in a single session (for larger frames see Timber Frame: Build Your Own Larger Frames). Students may choose from a variety of different stock frames. Changes to the stock frames as well as custom small frames can be completed but this needs to be arranged in advance with the instructor. Tuition and course length varies depending on the frame selected. Students may work alone or with a partner on their frame for no additional charge. A partner is required for the sauna frame.
Tuition covers instruction and all materials, including timbers and pegs, as well as use of specialized timber framing tools. Traditional and modern tools will be used and/or demonstrated during the course. The frames listed below are often completed by individual students; however, working with a partner is recommended for the larger projects. Plans are provided for all of the standard North House frames. Separate tuition payment & cancellation policies apply to this course. North House uses only certified sustainably harvested timbers.
10'x12' - 7 days - $3475
10'x16' - 9 days - $4425
13'x13' Sauna - 9 days -$5025 (one assistant required)
(Tuition costs as of 2/14/23)
https://northhouse.org/assets/uploads/documents/1001_NHFS_Small_Frames.pdf
Separate tuition payment & cancellation policies apply to this course.
Required Tools:
1 1/2 inch Chisel: you will need a chisel with at least a 5" blade. The Stanley "Contractor Grade" and Buck Brothers are less expensive options. Woodcraft and Sorby make good framing chisels, but make sure they measure exactly 1 1/2". The Barr chisel is an excellent tool and is available at the North House School Store. Call 888-387-9762 to reserve your tool.
Wood mallet: with a wood handled chisel you will want a 20­40 oz. mallet with wood, plastic or rawhide head. (Also available @ North House School Store).
Ear and eye protection
Optional Tools:
Framing square
Combination square
Tape measure
Pencil
Session Information
Due to the varying tuition & materials fees based on the project selected, please call 218-387-9762 to register for this course.
Dates
Sat, Jul 2nd, 2022 – Sun, Jul 10th, 2022
Timber Frame: Build Your Own Smaller Frames