The Handwoven Backpack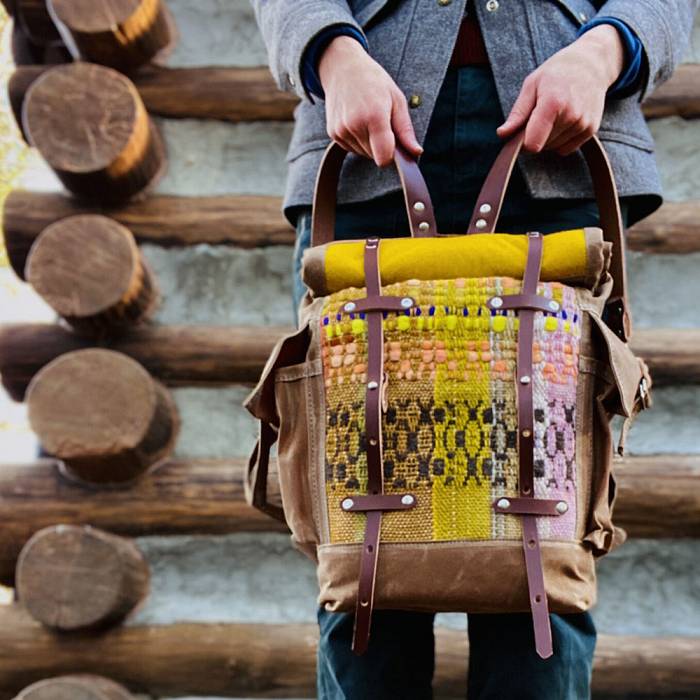 Course Overview
In this beginner class Amber will share from start to finish how to weave and stitch one of her signature woven and waxed canvas backpacks. We will learn how to warp and weave two unique panels of rug cloth on the floor loom using a variety of wool and cotton yarns. Playing with color and texture, we will allow ourselves to let the natural landscape of Lake Superior inspire our cloth creations.
In the second half we will learn simple skills for using an industrial sewing machine, leather working and how to apply rivets to cloth. Amber will share her unique sculptural approach to weaving and sewing that she has honed over the last 16 years. In the end each student will be able to go home with their own beautiful, durable and unique day pack to carry for many years to come. This is a beginner class but sewing skills helpful.
Required Tools
1 pad of Post-it notes
Scissors
Tape measure
Notebook
Pen/pencil
Session Information
NOTE: this was listed as a shorter course in the 2022 paper catalog. We regret the error, but the full five days now listed are necessary to complete the project.
Dates
Thu, Sep 8th, 2022 – Mon, Sep 12th, 2022
Course Details
Tuition:
$500.00
Materials fee: $115.00
The Handwoven Backpack