The Cedar Hand Drum: Carving, Stretching, & Drumming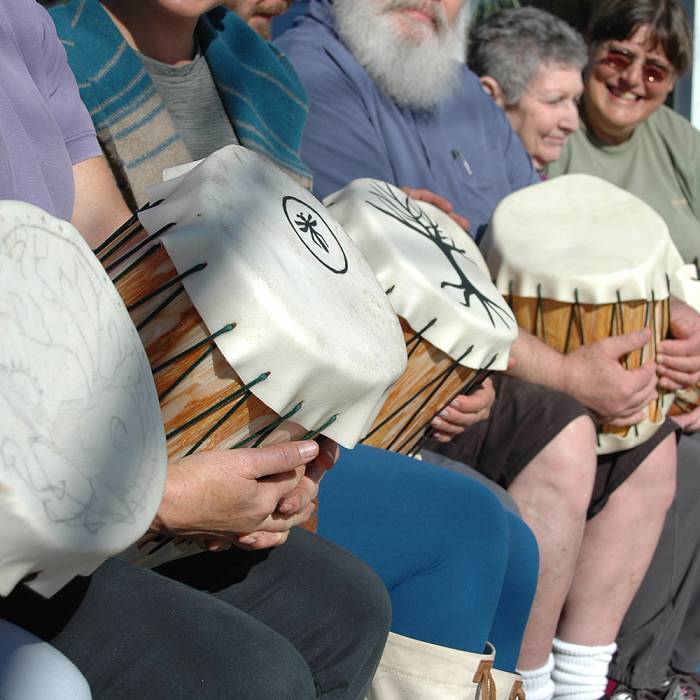 Course Overview
The timeless beat of the drum stems back to a time when we made our own music literally from the ground up. Before drum shops and before Putumayo, materials were hand-harvested from the forest to create wonderful sounds and were used to find rhythm in the world. In this course you will learn to carve a cedar hand drum from a hand-harvested log and then explore hand drumming patterns for lifelong skills with music. You will also work with softened rawhide as it is stretched to a desired tension and tone in the drum head. Although every drum will vary depending on the hand-harvested log, the finished drum will be approximately 9" in diameter and 8" in depth.
Required Tools and Materials
Carving gouge (#5 - 1 inch gouge or ship gouge)**
Snug leather glove
Ear plugs
**North House has a limited number of these tools available for students to borrow on a first-come, first-served basis. Please let us know in advance if you need to borrow a tool and we will reserve one for you.
Optional Tools and Materials
Leather hole punch
Scissors for cutting leather
Acrylic paints and brushes for decorating
Carving knife or other carving tools **these are available from the School Store on campus - 888.387.9762
Dates
Sat, Oct 15th, 2022 – Sun, Oct 16th, 2022
Course Details
Hours:
Day 1: 9am-5pm; Day 2: 9am-noon
Tuition:
$150.00
Materials fee: $70.00
Latest Update:

View recent changes →
The Cedar Hand Drum: Carving, Stretching, & Drumming