Swedish Dalmålning: Online Course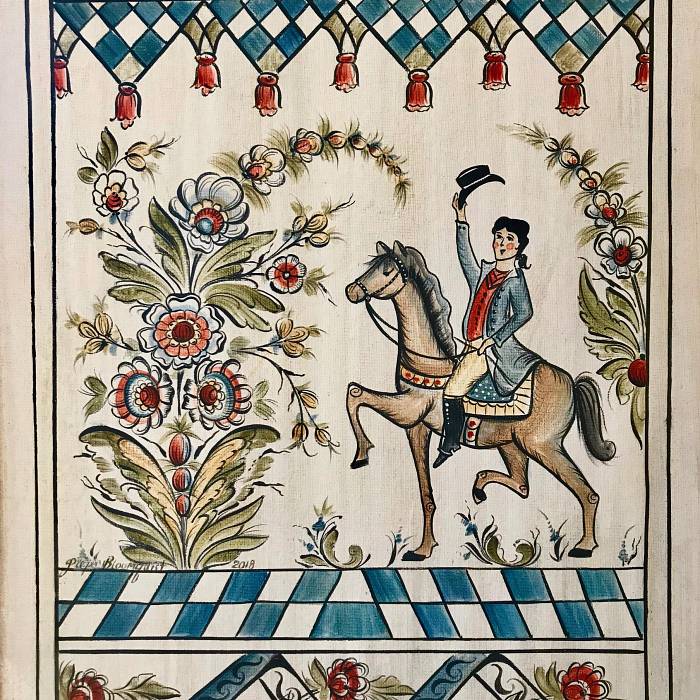 Course Overview
Swedish Dalmålning (also known as Kurbits Painting or Dala Painting) refers to the charming stories found painted on the walls of 18th – 19th century farmhouses in Dalarna, Sweden. Originally painted on paper or cloth canvasses, these paintings depicted everything from biblical stories to local history. In this class students will learn about the decorative elements of dalmålning, including story creation, borders, and kurbits flowers, and be guided on creating their own painting using acrylics on canvas board. You don't need any experience painting in this style, but some experience with painting (any medium) will be helpful. Discussions and demonstrations will explore traditional use of color and design, and more advanced technique with embellishments informed by historical examples.
If needed, $10 additional materials fee for powder pigment (raw umber/raw sienna) for making our own transfer paper. Please email info@northhouse.org if you need this item, and you will be called for $10 payment.
Required Tools and Materials
Students will need to supply the following materials
Paint:
The instructor DOES NOT use JoSonja, nor would be able to assist with gouache paints.
The instructor uses Winsor & Newton professional acrylics, but Golden or Liquitex are also fine. If you do not want to invest in a bunch of expensive paints, the Americana or FolkArt paints are fine, but you may find the colors won't be the same. That's okay…this is just a class to learn a new artform. If you decide you like it, you can buy the good stuff later!
The following colors will be used and they are W&N unless noted:
Thalo blue

Raw Sienna ( or yellow ochre)

Burnt Sienna (or red iron oxide)

Cadmium red light (optional)

Raw umber

Burnt umber

Sap Green (liquitex)

Titanium white (any brand, or even craft paint is fine)

Lamp black or ivory black (any brand, or even craft paint is fine)
Optional blues: Americana or FolkArt – midnight or navy are both fine. We will be mixing a blue/black or blue/grey.
Brushes:
**note that we are painting on canvas, which will eventually fray your brushes. Therefore I use cheaper brushes, and reserve my expensive ones for woodware. Below I listed some nice brushes that won't break the bank.
Suggestions are: Winsor & Newton Cottman watercolor, Princeton select, Princeton Lauren, Loew-Cornell
Suggestions are: Blick Masterstroke Golden Taklon # 0 or #1 liner, Blick Scholastic wonder white script liner #0
Suggestions are: Princeton Select liner #2, Winsor & Newton Cottman 333 series #2, Princeton Heritage 4050L #4
Suggestions are: Winsor & Newton Cottman 222 series #6, Princeton Heritage 4050L #6
1-2 flat brushes of various sizes – from 1cm up to ½ inch (to wash borders or large spaces)
Approx 2" flat wash brush for varnishing
Optional – a variety of filbert and rounds of various sizes (Princeton select has packaged sets that are pretty reasonable).
Other items:
Liquitex acrylic glazing medium –8oz bottle https://www.dickblick.com/products/liquitex-fluids-acrylic-glazing-medium/
Derwent watercolor pencil in raw sienna or raw umber (raw umber is easier to see if you have trouble with poor eyesight) https://www.dickblick.com/products/derwent-watercolor-pencils/

Canvas panel 11"x14" or smaller. You may wish to get 1 or 2 of different sizes – and a couple of small ones to use for practice. (Experienced painters/drawers may choose up to 16"x20"). https://www.dickblick.com/products/blick-studio-canvas-panels/

Palette – StaWet palette with film sheets (or flat bottom tupperware with lid approx 7" x 9" or bigger – with a piece of deli wrap. https://www.dickblick.com/products/masterson-sta-wet-handy-palette/

Straight edged ruler

Brush pan for water

Pencil and paper for sketching

Tracing paper

Paper towel

Palette knife

Pink soap, a small bar of ivory soap, or other brush cleaner

Rubbing alcohol and Qtips for cleaning up errors
Optional – 28lb or 32lb printer paper (used for color copies) is great for practicing brush strokes and playing with color.
Optional – some cardboard or tag board base coated with a light color craft paint or latex house paint (white, ivory, etc) - to use for practice.
Dates
Wed, Feb 15th, 2023 – Wed, Mar 8th, 2023
Course Details
Hours:
6:30 - 9pm CST each day
Tuition:
$200.00
Materials fee: $15.00
Swedish Dalmålning: Online Course