Smørrebrød: Scandinavian Open-Faced Sandwiches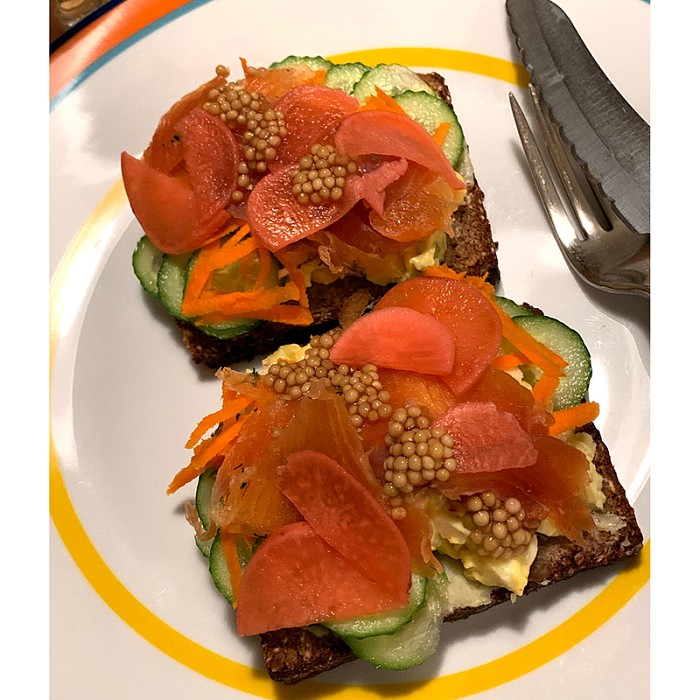 Course Overview
Scandinavians call smørrebrød a sandwich, but it's of the knife-and-fork variety, with a foundation of dense rye bread supporting an artistically arranged pile of toppings. Danish food expert Trine Hahnemann says smørrebrød came about in the late 19th century when factory workers began eating their midday meal away from home. Workers piled the few leftovers they had onto cheap, filling rugbrød for an economical and satisfying meal. This evolved into today's sandwiches that are built upon a creative mix of flavors and textures.
This intensive two-day class will explore several components of great smørrebrød: We'll make dense loaves of rye, the cured salmon called gravlax, two pates (liver and vegetable), some quick-smoked whitefish, pickled vegetables, cultured butter, fresh ricotta, and more. Some instruction will be demo, but most is participatory. We'll create an array of stunning smørrebrød for a delicious final meal, but students will leave with many of the fixings for a future meal in their homes. While it's ambitious, this class is open to anyone with an interest in well-crafted food in the Scandinavian tradition.
Physical Ability/Skills Needed
Need to be able to stand for long stretches of time.
Required Tools
Students should bring 4-6 sealable containers to transport various toppings.

Dates
Sat, May 21st, 2022 – Sun, May 22nd, 2022
Course Details
Hours:
Day 1: 9am-5pm; Day 2: 9am-4:30pm
Tuition:
$220.00
Materials fee: $65.00
Smørrebrød: Scandinavian Open-Faced Sandwiches