Skolt Sami Inspired Hat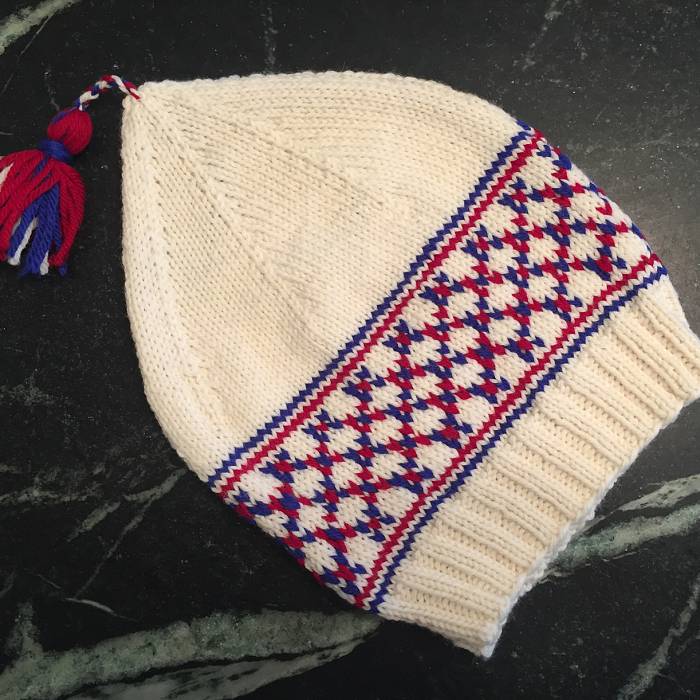 Course Overview
The Skolt Sami people's homeland is where the modern countries of Norway, Russia and Finland meet. There are several subsets of the Sami people. Traditional dress and language is unique and can vary as widely as the Danish language and traditional dress differs from a rural Norwegian dialect and dress. The Skolt Sami homeland is in an out-of-the-way place and provided a sheltered area to raise reindeer and sheep. Its isolation also helped protect and preserve handcrafts. This hat is inspired by several of the Skolt Sami knitted motifs, many of which I observed at the Sami Museum Siida in Inari, Finland, the Ä'vv Skolt Sami Museum in Neiden, Norway and the Skolt Sami Heritage House in Sevettijärvi-Näätämö, Finland. The pattern is written with choices in patterning, crown decrease and toppers. Students should feel comfortable knitting, purling, knitting in the round and stranding.
Course Details
Skill Levels:
Intermediate to Advanced
Additional materials fee paid to instructor when class starts:
included
Required
You will need the following tools for this class:
one ball of worsted weight yarn in MC and two contrasting colors with accompanying 16 in circ needle and double points in size needed to achieve a gauge of 20 sts and 28 rows to a 4 in swatch with an additional 16 in circ needle one size smaller.

I recommend Cascade 220, 100% Peruvian Highland Wool, 220 yards (200 m)/100 gram (3.5 oz) skein, 1 skein each of Natural #8010 (MC), Ruby #9404 (CC1), and Blue Velvet #7818 (CC2), or
ALTERNATE YARN Berroco, Ultra Wool, 219 yards (200 m)/100 g (3.5 oz) ball, 1 skein each of #3301 (MC), #3350 (CC1), #33156 (CC2) and 16 in circ needles size 4 (3.5 mm) and size 6 (4 mm), set of 5 double pointed needles size 6 (4 mm) or size needed to obtain gauge

NOTIONS Markers (m); tapestry needle
HOMEWORK Do ribbing as follows: With MC and smaller circ needle, CO 100 sts. Pm to indicate beg of rnd and join in the rnd, being careful not to twist. Work in k2, p2 rib for 2 inches (5) cm]. Withlarger circ needle, work 1 rnd in MC.
Optional Tools
Feel free to bring your favorite tools and whatever materials you might feel appropriate for this course.
More Information
Once registered, students will receive a confirmation email with further class information. Please call us if you haven't received it within 24 hours.
Skolt Sami Inspired Hat - 2/14/2019