Shearling-Lined Celtic Cable Crochet Headband Online Course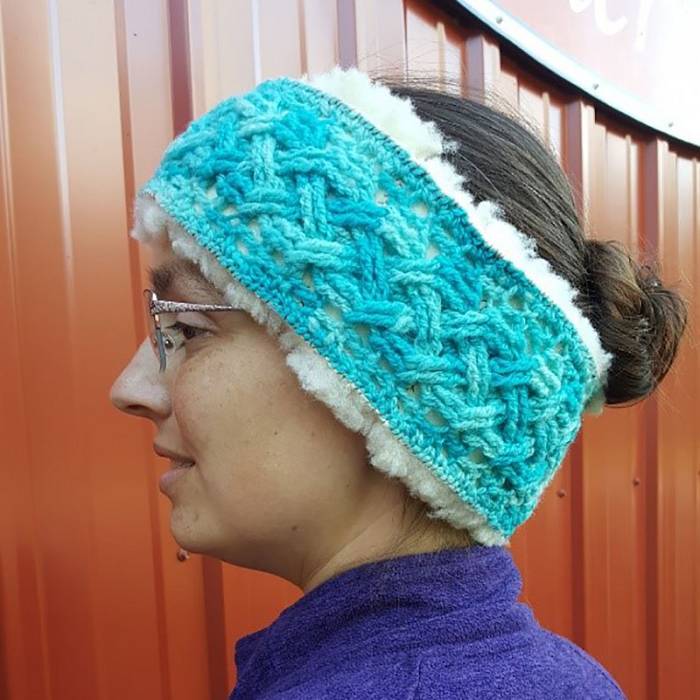 Course Overview
"That's crochet?" your friends will ask when you show off your new project. Yup! With this Zoom class, you'll learn how to transform stitches you already know into intricate, embossed patterning that looks like Aran knit and Celtic knotwork. Chase those chills away by covering shearling pelt from our sheep with your crocheted magic for a custom-fit accessory you'll enjoy all winter long. Not only will you be acquiring new crochet chops, but you'll also learn some basic leatherworking skills.

This is a class for experienced crocheters. Please already be familiar with reading a pattern and making chain, double crochet, and triple/treble crochet stitches before enrolling.
Note: Registration closes two weeks prior to class so that the instructor will have time to mail out the materials.
Required Tools
Size G crochet hook (or add one to your kit for $5 - Instructor contact info will be provided in your confirmation email)
Tapestry needle for burying ends (if you like that technique)
Thread and Fabric Scissors (or a strong, sharp scissors for trimming the pelt to size)
Thimble for your middle finger (leather ones work great, if you have them)
6-8 clothes pins
Iron, ironing board, and damp cloth for blocking your work (between sessions)
Optional Tools
Magnification, if needed.
Session Information
Registration for this course will close February 4 so the instructor has time to mail the materials kits.
Dates
Fri, Feb 18th, 2022 – Fri, Feb 25th, 2022
Course Details
Hours:
2-4pm CST two Fridays, February 18 and 25
Tuition:
$80.00
Materials fee: $70.00