Penny Rug Ornaments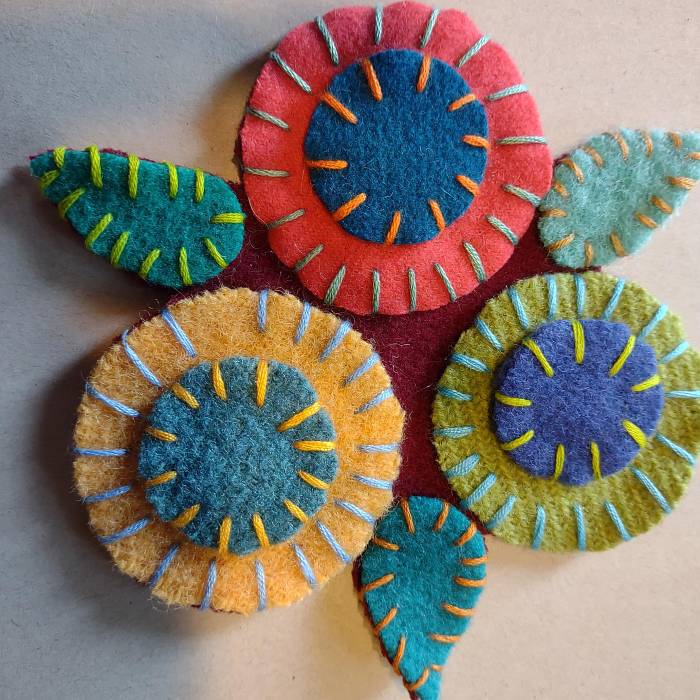 Course Overview
Penny rugs use felted wool scraps to create a textile feast for the eye. Multicolored shapes are arranged in contrasting and complementary colors that can make a room come alive with color. Circle and leaf shapes of descending sizes are layered onto a wool background piece and stitched into place. Called "penny" rugs because the original template was a copper penny (larger than current size), these pieces have offered a frugal way to indulge in creative expression since the mid 1800s. In this class, you will design, hand stitch, and embellish mini penny rugs that can be used as colorful ornaments, coasters, garlands, or sewn onto belongings. No sewing experience is needed. Adult and youth pairs age 12+ are welcome, along with youth ages 12+ working independently. 
Required Tools
Small sharp scissors
Optional embellishments such flat buttons and beads
Eye glasses if needed
This course has been cancelled. We offer our deepest apologies.
If you were registered for this class, you should have received an email regarding your refund options. If not, please call us at 218-387-9762 or email us at info@northhouse.org.
We truly hope to see you in another class at North House soon!
Course Details
Skill Levels:
Beginner to Intermediate
Tuition:
$85.00
Materials fee: $30.00
Latest Update:

View recent changes →
Penny Rug Ornaments