Nothing New: Make a Quilt from Old Clothes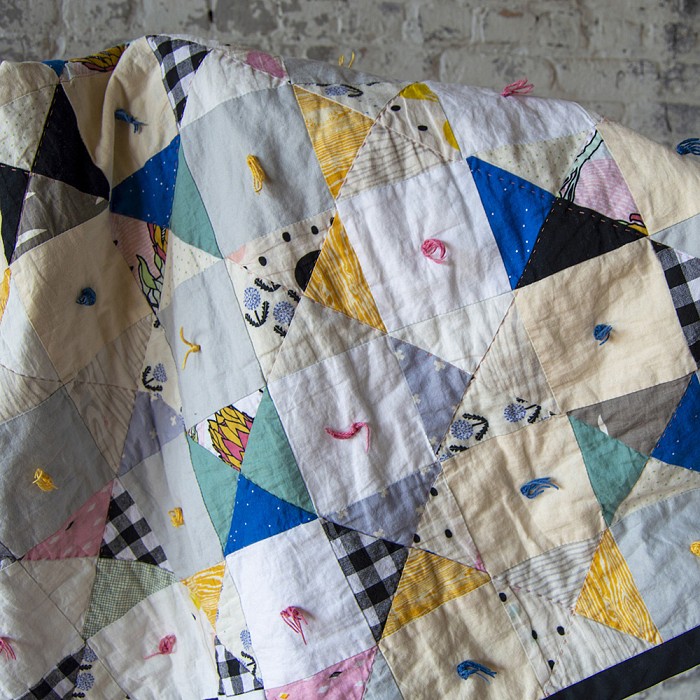 Course Overview
Like many fiber arts, quilting is an old and universal practice with traditions that span cultures and history. It is often a way to re-use old garments that are beyond repair, turning them into something beautiful, unique, and functional. It is also a fun and forgiving way to develop sewing skills. Using old clothing or other salvaged fabric, make your own small quilt (~40" x 40") from start to finish, or make a quilt top to complete at home. We will start with an overview of historical quilts to get inspired and then we sew! Learn best practices for designing, piecing, quilting, and binding. No need to be intimidated by math or expectations of precision. We will use simple, traditional quilt block patterns and work intuitively to make a beautiful and personal quilt. While this is a great class for beginners, it can also be useful for any quilter looking to refresh their creative process. This course is open to students ages 8+ if accompanied by an adult, 13+ without.
Provided materials:
Irons and ironing boards, thread, pins, and other miscellaneous materials. North House has sewing machines available to students who might be unable to bring their own.
Materials Fee
There is a $40 materials fee payable to the instructor during class.
Required Tools
A functional sewing machine and basic working knowledge of it. There may be time to answer some questions related to sewing machine maintenance, but instruction will focus on design and sewing processes. North House can provide machines for students to use. Please contact info@northhouse.org at least two weeks before class to request use of a sewing machine.
2-4 cotton or cotton-blend garments or other pieces of cotton fabric that have lived a full life and are ready to be cut into small pieces and sewn into a quilt. More details will be provided in an email from the instructor two weeks before the class.
Backing fabric (cotton or cotton-blend) and batting, max size 60" x 60"
Dates
Cancelled
Thu, Nov 10th, 2022 – Sun, Nov 13th, 2022
This course has been cancelled. We offer our deepest apologies.
If you were registered for this class, you should have received an email regarding your refund options. If not, please call us at 218-387-9762 or email us at info@northhouse.org.
We truly hope to see you in another class at North House soon!
Course Details
Hours:
Days 1-3: 9am-5pm; Day 4: 9am-noon
Nothing New: Make a Quilt from Old Clothes