New Scenic Café - The Second Cookbook - Seasonal Recipes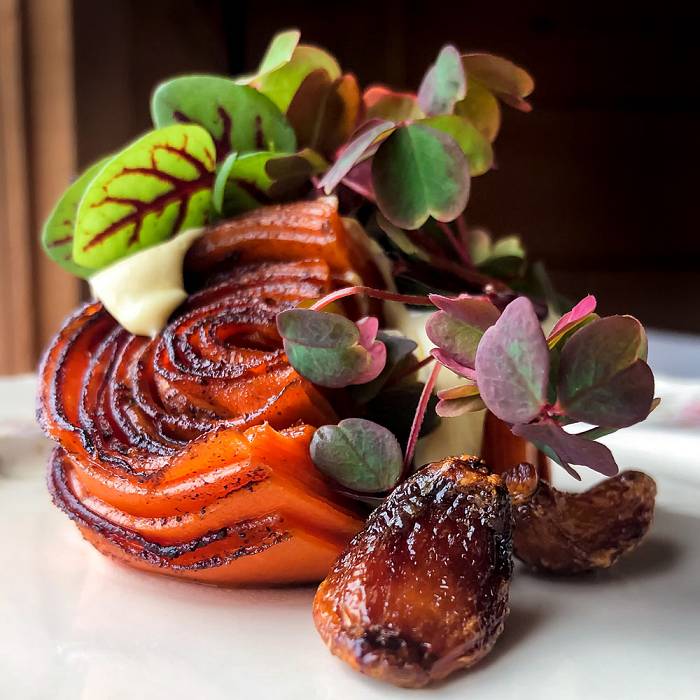 Course Overview
Celebrate the seasons with chef Scott Graden to discover and create delectable recipes from the recently released New Scenic Café - The Second Cookbook. Ranging from sumptuous summer delights to hearty winter dishes, four separate courses inspire all levels of cooks to fill their minds and bellies with the bounty that emerges as we make that regular trip around the sun. Gain a world of insider knowledge as you are offered expert tutelage that will not appear in the cookbook. The instructor will share his inspiration for the recipes and cookbook, appropriate modifications, and useful tools. In addition, the instructor will share his perspective on his resilience in the hospitality industry, his adaptations throughout COVID, and experience writing the book. The first day of class will feature preparations for the meal the following day, along with discussions with the chef and author. The second day will feature the final preparations and an opportunity to share the meal with your fellow students pending safety recommendations. Each separate course includes one discounted New Scenic Café - The Second Cookbook for each student. Note: Registration closes one week prior to class. 
Please sign up for each course individually by date. Recipes are listed on northhouse.org with each course description.
Required Tools
Assorted containers for bringing food home
A basket or box for those containers
Beverage for communal meal
 
Session Information
Recipes for January 14 - 15, 2023
Smoked beet / tomato jam / currants / beet vinaigrette
Cauliflower puree / pine nuts / pecorino romano / browned butter|
Potato sausage / red quinoa / baby turnips / peas & carrots / radish / buttermilk mustard
Norwegian salmon / rutabaga & yukon puree / beet / buttermilk mustard / arugula
Swedish mocha almond meringue torte / espresso buttercream / chocolate ganache / arctic sugar
As safety allows, on the final day of each class, we will share a communal meal, beginning around 4pm, typically ending by 6pm. Please feel free to bring a beverage of choice to enjoy (adult beverages are okay). You are welcome to bring a guest for the dinner pending pandemic safety precaution updates.
Dates
Sat, Jan 14th, 2023 – Sun, Jan 15th, 2023
Course Details
Tuition:
$200.00
Materials fee: $160.00
New Scenic Café - The Second Cookbook - Seasonal Recipes