Natural Dyes in the Steam Box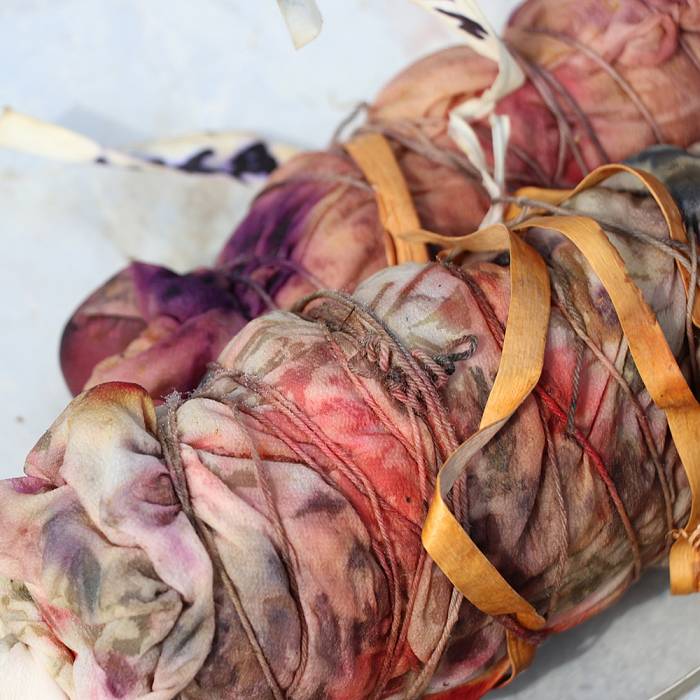 Course Overview
Dyeing cloth using natural materials is a magical process: Add a bit of steam and assorted leaves, flowers, and old rusty nails, and wait an hour…the results are extraordinary. Who knew all the colors of nature were hidden in plain sight? In this course, you'll learn a bit about the history, chemistry and new innovations in natural dyeing processes and use a variety of materials that will vary seasonally. You never quite know what you'll pull out of the steam box, and working with other students allows for a wide variety of experiments and collaborations to occur. The materials fee includes three silk scarves students will complete during the course.
Session Information
North House is looking forward to hosting this course on campus in the safest way possible. Students will be asked to wear a mask at all times on campus, and to practice social distancing of 6 feet, as well as adhere to other safety protocols. See the full details of our COVID-19 protocols here.
This course has been cancelled to mitigate the risk of spreading COVID-19. We offer our deepest apologies. We truly believe in the power of craft to build community, and we know that community is needed more than ever in times like these. However, the need to stay healthy and protect our friends and neighbors is the most critical priority.
If you were registered for this class, you should have received an email regarding your refund options. If not, please call us at 218-387-9762 or email us at info@northhouse.org.
Click here for additional information.
We truly hope to see you in another class at North House soon!
Course Details
Skill Levels:
Beginner to Advanced
Intergenerational age:
N/A
Tuition:
$125.00
Materials fee: $40.00
Required Tools
You will need the following tools for this class:
Please bring plant materials if possible - the more the better, to add to the selection we will have available. Flowers can be picked a few days beforehand and kept in a cool place - do not dry them. Bring delphinium, begonias, geraniums, snapdragons, zinnias, berries... any plant that leaves a stain when rubbed against your skin has dye potential. Wild grapes were our favorite new dye material last year - more of those, please!
Optional Tools
You will be provided with 3 silk scarves. Wear clothing/shoes suitable for working with dye.
More Information
Once registered, students will receive a confirmation email with further class information. Please call us if you haven't received it within 24 hours.