Introduction to Gudbrandsdal Style Rosemaling: Online Course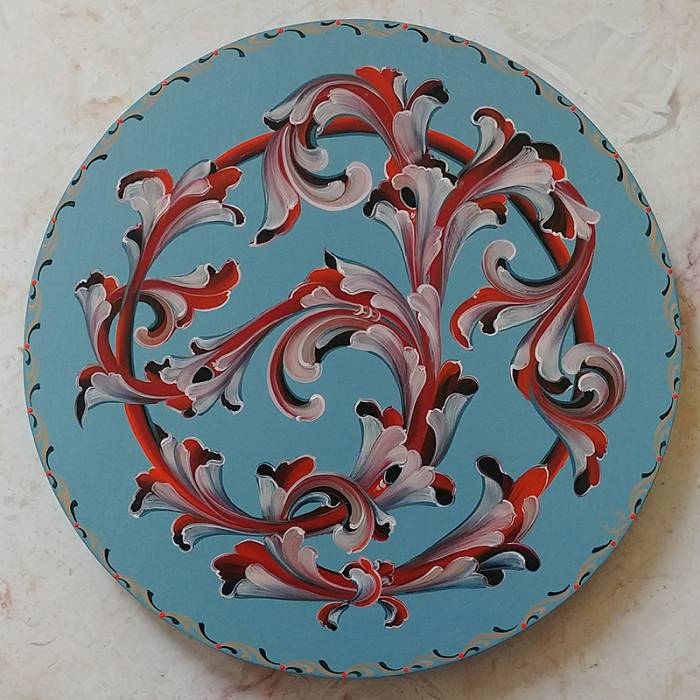 Course Overview
Rosemaling is a decorative painting style originating in Norway. The Gudbrandsdal style of rosemaling originated in the Gudbrandsdal region and is recognized by foliage of the acanthus leaf. This course emphasizes the basic technique for painting these acanthus leaves, scrolls, and simple flowers. This style is best suited to students with some rosemaling experience. Good beginner courses include the Telemark and Valdres styles. We will learn about the style, practice it's basic techniques and move towards a small project over the two online sessions of this class. Students will receive paper handouts via mail ahead of time with information and a template for the project.
Session Information
Note this class meets on two Thursday evenings online: January 21st and 28th from 7-8:30 pm CT. In order for the instructor to have time to mail the course handouts ahead of time, registration for this course closes on January 8th.
Course Details
Skill Levels:
Intermediate to Advanced
Hours:
Jan 21st, 28th, 7-8:30 pm CT.
Intergenerational age:
N/A
Tuition:
$90.00
Materials fee: $10.00
Required
You will need the following tools for this class:
Each student will receive a packet of handouts and the project template in the mail ahead of time.
In addition, each student will need to provide:
Oil Paint. Recommended colors are:

Burnt Umber
Raw Umber
Prussian Blue
Yellow Ochre
Titanium White

Brushes

#4 or 6 filbert brush (having both is preferred)
#0 or 1 liner brush

Palette Knife
Painting surface of Student Choice
Ruler
Paint Thinner
Walnut or Linseed Oil (I use small beverage container lids to hold a small amount of oil for short-term use)
Murphy's Oil Soap (or cleaner of choice)
Clean-up Rags
More Information
Once registered, students will receive a confirmation email with further class information. Please call us if you haven't received it within 24 hours.
Introduction to Gudbrandsdal Style Rosemaling: Online Course - 1/21/2021