Intermediate Needle Felting - Fawn: Online Course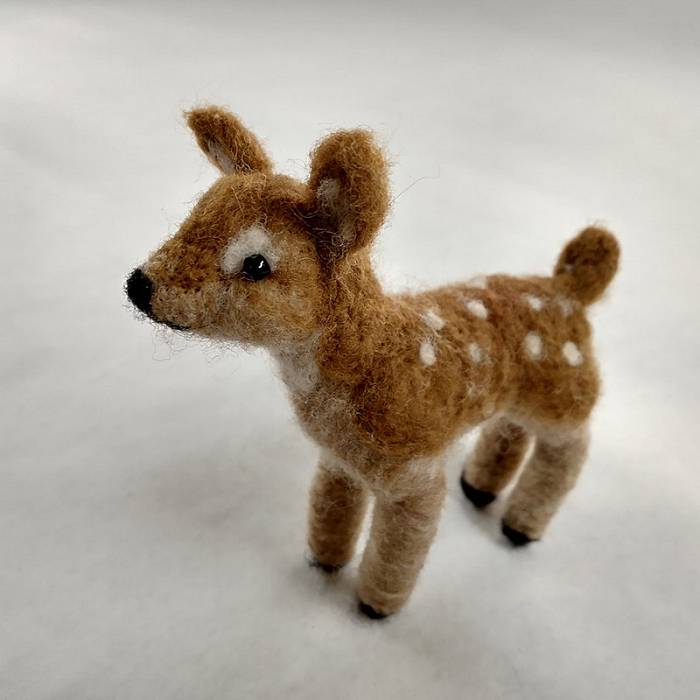 Course Overview
Ready to advance your needle felting skills while creating an adorable fawn? In this intermediate level class, we'll explore the added complexities of adding legs (and making our little friend stand well), ears, tails, and more. We'll also focus on the detailed colorwork that makes fawns so cute. Materials include enough wool to make two fawns, so you can continue to hone your skills. Join us for this two-part class and create a woodland friend to cherish with wool from the instructor's sheep.
Students in this class must have taken a previous beginner level needle felting class with Laura (see the Needle Felted Critters series if you'd like to sign up for a beginner class). If you have prior needle felting experience not through a class with Laura and would like to sign up for this class, please send a photo example of your needle felting to Laura at laura@erindaletapestrystudio.com and she can help you decide if this class will be a good fit for you.
Registration closes February 20 so the instructor has time to mail out materials.
Each student will receive a kit in the mail with the following prior to class:
Wool from the instructor's sheep to make 2 fawns
3 felting needles
Kabob stick
Eye beads
Thread
Required Tools:
Students need to provide their own:
Foam work surface
Scissors
Good lighting and a comfortable chair
Laptop or tablet with reliable internet connection
Optional Tools
Reading glasses if you use them
Session Information
Registration closes February 20 so that the instructor will have time to mail out materials.
Dates
Cancelled
Fri, Mar 4th, 2022 – Fri, Mar 11th, 2022
This course has been cancelled. We offer our deepest apologies.
If you were registered for this class, you should have received an email regarding your refund options. If not, please call us at 218-387-9762 or email us at info@northhouse.org.
We truly hope to see you in another class at North House soon!
Course Details
Hours:
2-5pm CST two Fridays, March 4 and 11
Tuition:
$70.00
Materials fee: $45.00
Intermediate Needle Felting - Fawn: Online Course