Gudbrandsdal Rosemaling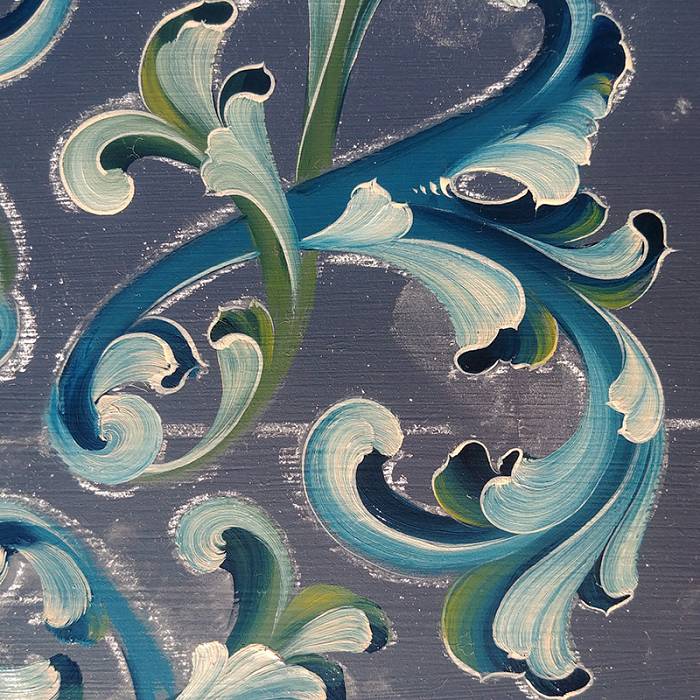 Course Overview
Rosemaling is a decorative painting style originating in Norway. The Gudbransdal style of rosemaling originated in the Gudbransdal region and is recognized by foliage of the acanthus leaf. This course emphasizes the basic technique for painting these acanthus scrolls. Students will apply their skills to a 12'' lidded box. This style is best suited to students with some rosemaling experience. Good beginner courses include the Telemark and Valdres styles. This course is open to students ages 14+.
Materials Fee
Approximately $10-$50 payable to instructor during the course
Required Tools
The instructor will provide paints, other incidental supplies, and a class project such as a plate, bowl or other woodenware item for your use for a fee of approximately $50 collected at the beginning of class. If you bring your own supplies (listed below as optional) and/or project, this fee will be reduced accordingly. Students who bring nothing but a paint shirt and notebook should expect to spend $50, students who bring their own brushes, paints, and project should expect to spend $10-$35.
Notebook and pen
A paint shirt
Students will need to notify the instructor at least one month in advance if they would like to paint a box, the class project, or work on a practice board only. Returning students can contact the instructor for other project options as well. More info provided after registration.
Optional Tools
All of the supplies below are provided as part of the materials fee that will be charged on the first day of class (approx. $50, please bring check or cash). If you provide any of the supplies listed below, the materials fee of approx. $50 will be reduced accordingly.
Brushes will be available for purchase ($15-20).
If bringing your own brushes, a number 4 and 6 filbert and a liner of your choice, I use size 0 and/or 1
Palette paper (for mixing paints)
Palette knife
Cloth rags or paper towels
Linseed Oil or Walnut Oil
Odorless paint thinner or brush cleaner – available at local hardware store
White chalk or a white watercolor pencil
( I do not use transfer paper but if you prefer this method please bring white transfer paper and a design will be available )
Murphy's Oil soap for cleaning brushes
Jar with cover for paint thinner
Saran wrap (for paint brushes and covering paints) Or a sealable palette
ARTIST OIL PAINT COLORS
(Rembrandt brand recommended by instructor)
Titanium White
Prussian Blue
Burnt Umber
Raw Umber
Yellow Ochre
Transparent Oxide Red, Burnt Sienna, or English Red (optional)
Hansa Yellow light or a bright yellow of choice (optional)
Cadmium Red light (optional)
Practice board of your choice (masonite or a heavy paper/cardboard) Painted with two coats of a dark blue, black, or dark green paint
Project will be a 12'' lidded box through Lusk Scandia Woodworks, www.luskscandiawoodworks.com
If you would prefer to paint practice boards/paper in class that is fine. Please have your box painted with two coats of paint, light sanding between coats. Or, you will be able to ask the instructor to order the box for you. Info after registration.
Dates
Fri, Aug 19th, 2022 – Sun, Aug 21st, 2022
Gudbrandsdal Rosemaling