Felt Rugs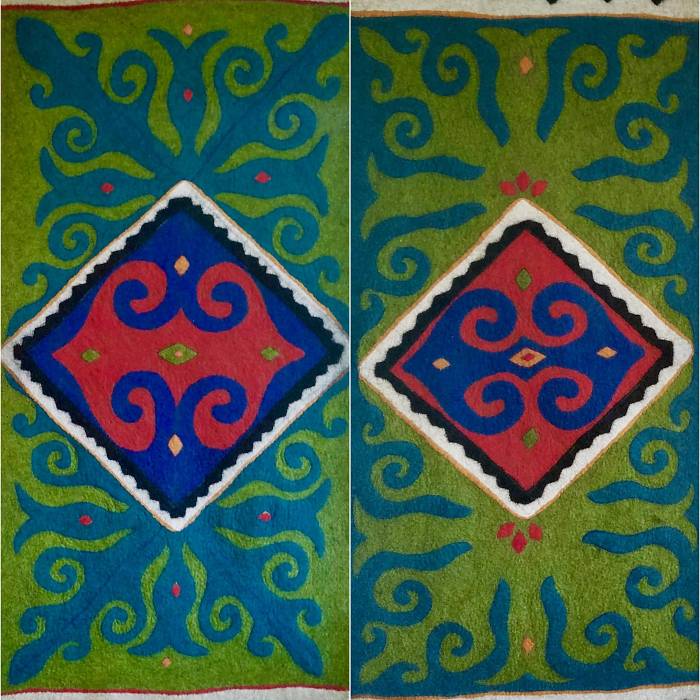 Course Overview
As a great teacher of mine once said, feltmaking is not complicated—it is complex. The oldest surviving felt rugs were found in burial mounds of the Altai Mountains. The beauty and detail are incredibly inspiring and the questions these felts bring up are rich and varied.   Why did felt hold such an important place in the herding cultures of Central Asia? Why are beautifully detailed, handmade felt rugs so hard to find today? Why is felt no longer an integral part of daily life? We will pull on some of these threads as we get our own hands wet exploring the complex world of felt rug making. We will create samples, learn how to design with wool, and each student or student pair will have the choice of making one large or two smaller rugs during the course. (The rug size is limited by table size - 2' W by 6' L before shrinking). This is a great class for beginners, as well as students with more experience interested in learning more about rug making traditions and techniques. Given the scope of this course's project, up to two students may work together for this course, paying the single base tuition. Physical Ability/Skills Needed: Felt rugs need to be strong, and we will be shrinking the felt by hand. This is a full body workout (and fun!) but can take up to 4 hrs for a large rug.  Students are encouraged to sign up in pairs if they would like a less physically demanding felt-making. Youth age 16+ may register for this course. Youth ages 10 and up may attend if accompanied by an adult. Adult/child pairs will pay one registration and materials fee.
Required Tools
1 small hand towel
2 large bath towels
Optional Tools
Apron
Notebook
Sharp scissors
Yard stick
Bag to carry home wet project
Session Information
Please email
info@northhouse.org
as soon as possible after registration if you will be bringing a partner to class.
Dates
Fri, Nov 17th, 2023 – Sun, Nov 19th, 2023
Course Details
Tuition:
$315.00
Materials fee: $65.00
Latest Update:

View recent changes →
Felt Rugs