Exploring Color and Texture: Beginning Floor Loom Weaving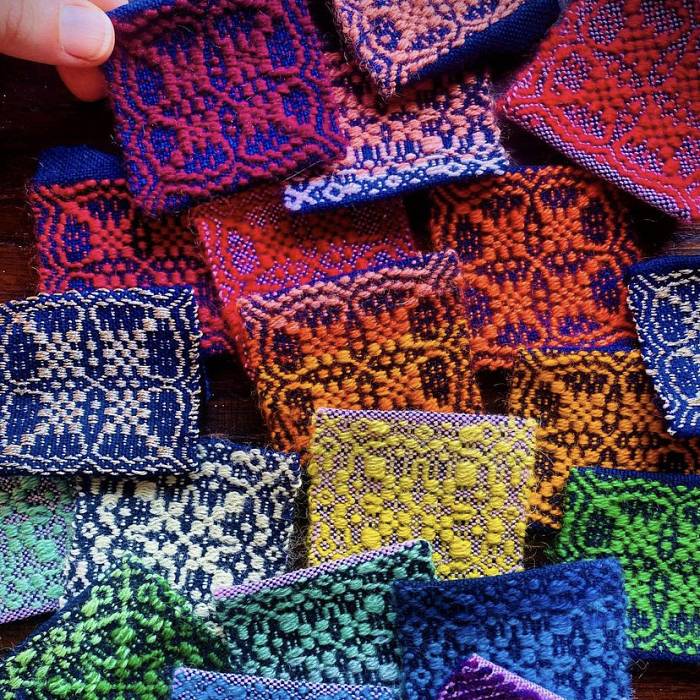 Course Overview
In this introductory weaving course we will bravely learn how to warp and weave on a floor loom. Amber will share her own creative process and techniques using traditional overshot weaving patterns. Through experimentation with color and texture, we will all create our own rainbow of vibrant patches. Amber will share her fiber artworks and teach the various handwork methods for designing both on and off the loom. Together we will imbue cloth with our own mark-making language. We will be able to take home a piece of our time learning at the loom and our memory of the new friendships we have created together on the beautiful North Shore.
Required Tools
Pencil/Pen
Notebook
1 set of post-it notes
Optional Tools
Your favorite yarn or embroidery thread you might wish to experiment weaving into your handwoven cloth
Session Information
This course is part of Fiber Week 2022. Join us for extra fun on February 18, Fiber Friday.
Dates
Sat, Feb 19th, 2022 – Tue, Feb 22nd, 2022
Course Details
Hours:
Day 1-3: 9am-5pm; Day 4: 9am-noon
Tuition:
$365.00
Materials fee: $55.00
Exploring Color and Texture: Beginning Floor Loom Weaving