Deerskin Mittens with Anishinaabe-Style Beadwork: Online Course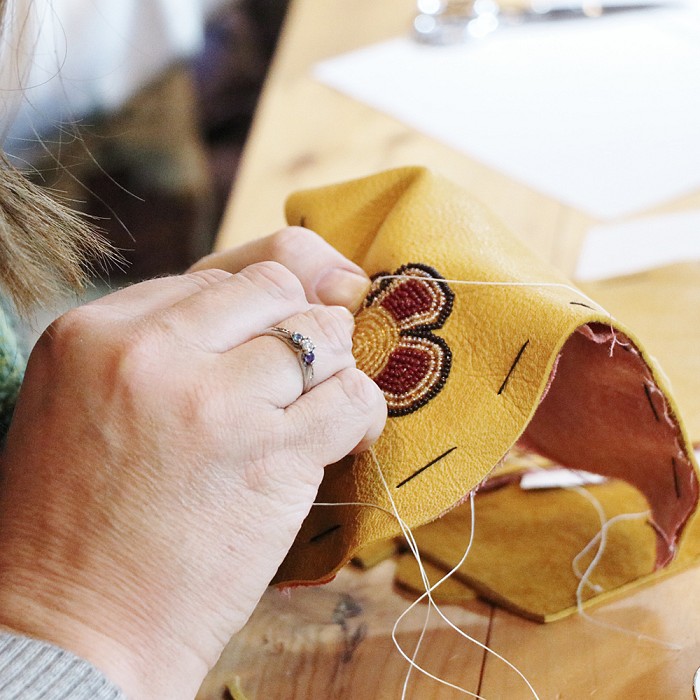 Course Overview
Up North there's a saying that there's no bad weather, just the wrong clothes. In this online course, you'll outfit your hands to protect them from the elements by designing a comfortable and warm pair of deerskin mittens to wear during the winter months. The mittens are ideal for daily wear, working outside, or for long winter adventures. You will decorate the mittens with bead embroidery using your own design. The basics of deerskin sewing will be taught as well as the sewing of a warm wool lining. Your materials fee includes deerskin, wool fabric, beads, needles, and thread. Registration closes October 5 so that the instructor will have time to prepare and mail out materials.
NOTE: Please find a Mitten Sizing Guide in your confirmation email and plan to send the instructor your size before October 5.
Required Tools
Students will receive a mailed kit with almost all of the needed materials, including pattern and sewn lining.
Students will need to provide
Thread scissors (craft scissors works too)
Matches or lighter
Small pliers
Pen or pencil
Paper for notes
Band-Aids on hand (just in case!)
Stable work space and a place to lay out your beads
Good lighting, and a comfortable chair
A laptop or tablet to join the Zoom class
Optional Tools
Reading glasses or magnifying glass if you need aid for seeing small details
Dates
Fri, Oct 28th, 2022 – Fri, Nov 11th, 2022
Course Details
Hours:
2-4:30pm October 28, November 4, and November 11
Tuition:
$150.00
Materials fee: $103.00
Deerskin Mittens with Anishinaabe-Style Beadwork: Online Course