Dalmålning and Dala Horses (Swedish Folk Painting)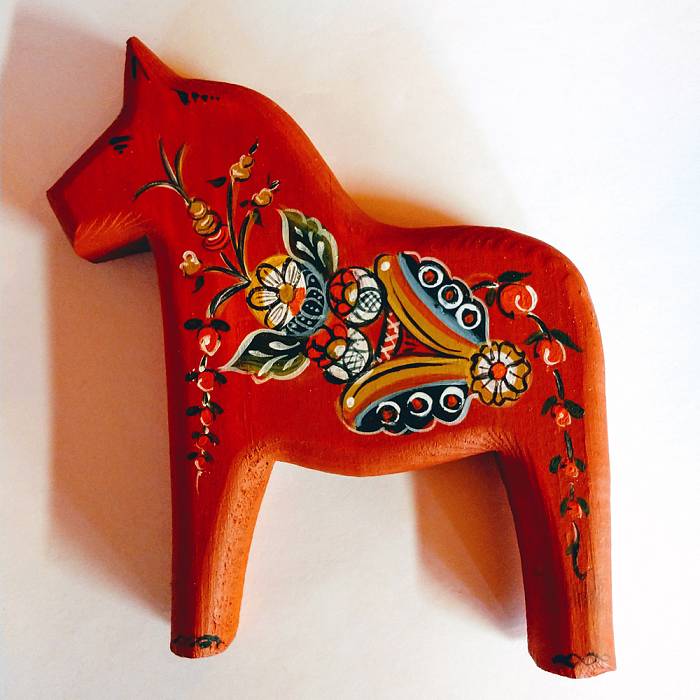 Course Overview
Swedish Folk Painting, often referred to as "dalmålning" actually consists of several different painting styles based on region, subject, and artist. In this course, we will discuss the style of northern Sweden known as Dalmålning or Kurbitsmaling. Then we'll practice the basic painting techniques of this style by creating our own project. On days 2 & 3 we will discuss the history of the Dala horse and finish up by painting our own Dala horses. This course will be taught in both acrylics and oils. Students are encouraged to try painting with acrylics even if you usually paint in oils. No painting experience is needed. This course is open to students ages 12+ if accompanied by an adult, 16+ without.
A materials fee of $35 will be paid to instructor in class. Additional fee $20-35 for dala horse blanks. For those bringing their own supplies the materials fee will be adjusted.
Required Tools
Paper & pen for taking notes
Something to protect you clothing, like an old shirt or apron ( we can get messy)
All materials needed to paint will be provided by the instructor. There will be basic supplies and paints for background painting available for everyone. The instructor will provide canvas for dalmålning project. There will be an additional fee for dala horse blank. The instructor will have brushes to use in class and for purchase. Brushes are not included in the class materials fee but are available for purchase if you want to take them home. The cost of brushes is approximately $20-35.
Optional Tools
Feel free to bring your favorite tools and whatever materials you might feel appropriate for this course.
Palette paper
Tracing paper
Transfer paper
Palette knife
Dawn dish soap or pink soap for cleaning brushes
Lint free paper towels
Jar for paint thinner (for oil painting) paint thinner will be supplied by instructor
Small container for water or oil painting medium- medium for oils will be supplied by instructor
Walnut alkyd medium or boiled linseed oil if you wish to bring your own (for oils only)
Dates
Cancelled
Fri, Jun 24th, 2022 – Sun, Jun 26th, 2022
This course has been cancelled. We offer our deepest apologies.
If you were registered for this class, you should have received an email regarding your refund options. If not, please call us at 218-387-9762 or email us at info@northhouse.org.
We truly hope to see you in another class at North House soon!
Dalmålning and Dala Horses (Swedish Folk Painting)