Cedar Bark Mat Weaving: From Forest to Floor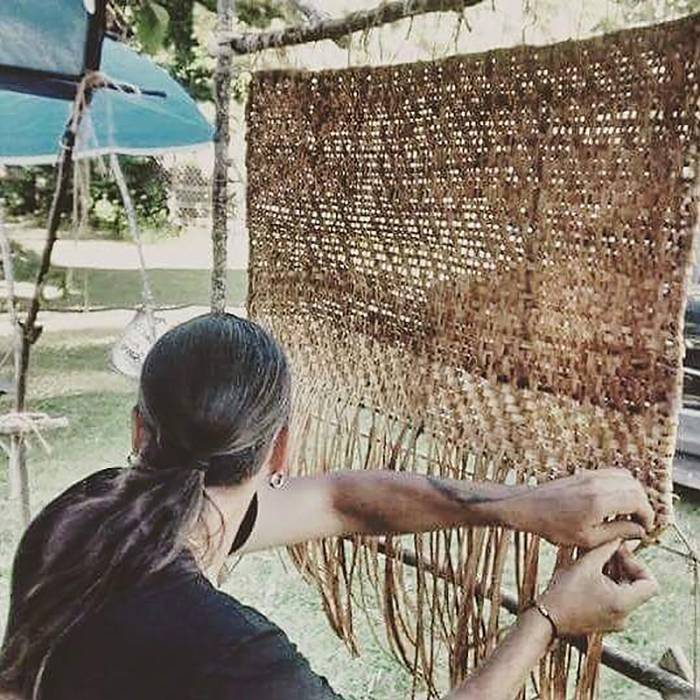 Course Overview
This course offers students an opportunity to fully explore the traditional Anishinaabe craft of cedar bark weaving, from harvest to finished work. Led by Greg Johnson of Lac du Flambeau, this is a unique opportunity to immerse in a craft process and cross-cultural experience intimately tied to the northern forest and the Anishinaabe people. These mats were traditionally used to line the floor of lodges, making it more comfortable for sitting and working. They were also used for drying fish and other foodstuffs, as cedar has antifungal and antibacterial properties.
Throughout the course, Greg will share stories and reflections related to cedar bark and other materials in Anishinaabe life. During the first two days, students will head into the early summer forest to harvest cedar bark. They will then learn to process, cut and dye the material to prepare it for weaving. The students will then work as a group to weave a large cedar mat. The weaving process involves many people working together in coordination to complete the project. On the last day, students will weave smaller individual projects to take home. This course is a partnership with the Grand Portage Band and the National Park Service and will be held at the Grand Portage National Monument, located about 35 miles northeast up the shore from North House.
Required Tools
We will be working outdoors and going into the woods for harvesting. Please dress comfortably to work outdoors in potentially buggy wet conditions. This might include rain gear, layers, sun protection, muck boots, head nets, leather gloves. Remember that it's often much cooler near Lake Superior, so expect temperatures to vary from 50-70 degrees depending on our location.
Daily lunch, waterbottle, and snacks are recommended. Options for eating out are limited.
Optional Tools
heavy duty scissors
utility knife
ax
Dates
Mon, Jun 13th, 2022 – Fri, Jun 17th, 2022
Cedar Bark Mat Weaving: From Forest to Floor