Brain Tanning Deer Skins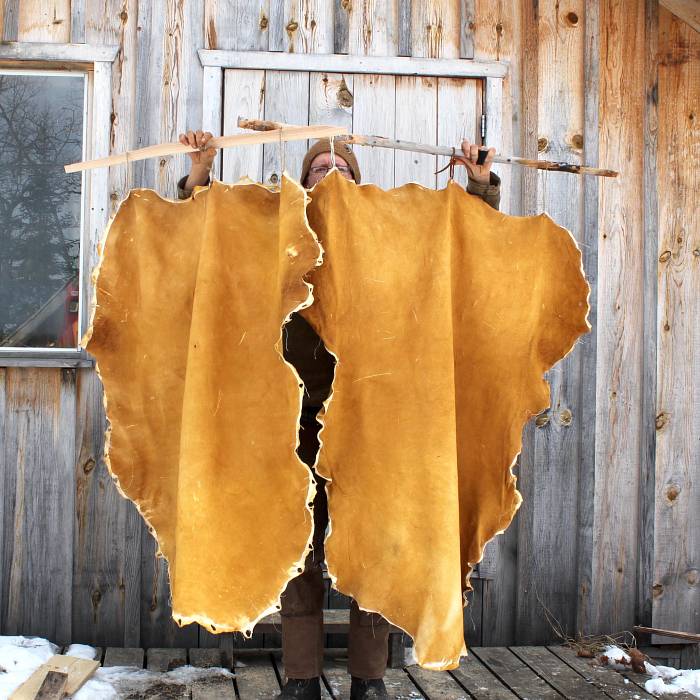 Course Overview
In three whirlwind days, using brains, smoke, and hard work, we will take deer skins from their raw state all the way to soft, beautiful buckskin. With instructors Nate Johnson of Dora Lake, MN, and Jeff Harper, Leech Lake Ojibwe from Cass Lake, MN, students will work as a group to tan several hides, which will be shared at the conclusion of class. While there are many ways to tan a hide, this class will teach the wet scrape method. We will soften traditionally with brains, and finish with smoke, all of which produces a strong yet supple leather. Hide tanning is possible regardless of a student's size or strength – the most important attributes are persistence and determination. However, students must be able to undertake three very physical days with lots of arm work. Open to ages 16+.
Required Tools
Rubber boots
Rubber gloves (waterproof) to wear while scraping the hide
Work clothes
Session Information
This course is part of our first-ever Hide Week. Join us on October 6 for a day of free demonstrations, talks, and community gatherings. Plan to stick around for a day after class and be part of the fun!
Dates
Tue, Oct 3rd, 2023 – Thu, Oct 5th, 2023
Course Details
Tuition:
$345.00
Materials fee: $65.00
Latest Update:

View recent changes →
Brain Tanning Deer Skins