Asekewin: Traditional Hide Tanning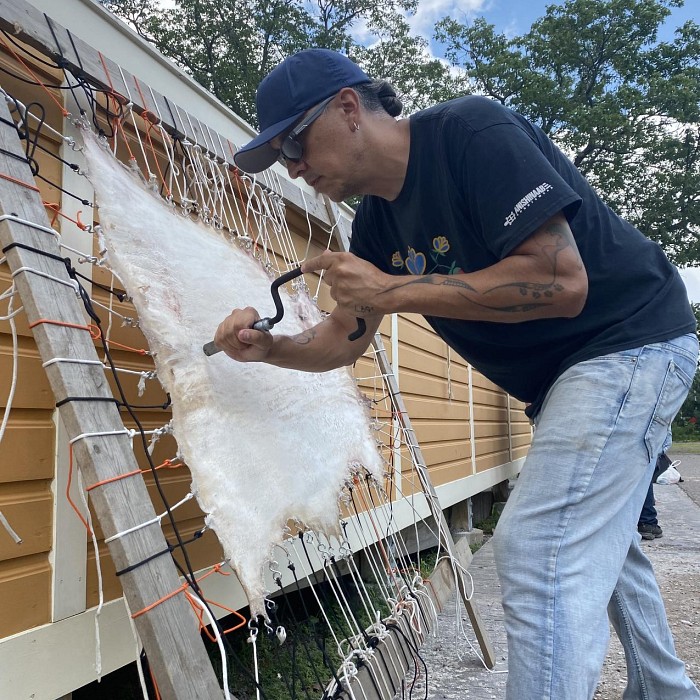 Course Overview
Soak, scrape, stretch, and smoke: these are the basic steps of asekewin or hide tanning, one of the oldest methods of creating soft and pliable buckskin. This soft and strong fabric can be used for clothing, shoes, mittens, gloves, bags, and more. Working with Ojibwe cultural specialist Greg Biskakone Johnson of Lac du Flambeau, WI, students in the course will work as a group to tan multiple deerskins, learning both the steps in the process and cultural history and stories connected to the work. This course is a partnership with the Grand Portage Band and the National Park Service and will be held at the Grand Portage National Monument, located about 35 miles northeast up the shore from North House. Hide tanning is possible regardless of a student's size, gender, or strength-the most important attributes are persistence and determination. However, students must be able to undertake three very physical days. At the end of the class, each person will leave with buckskin leather for personal projects and knowledge and skills that can be applied to many types of hides.
Required Tools
Clothing that is comfortable to do physical work outdoors. Rubber boots are not a bad idea.
Session Information
This course takes place at the Grand Portage National Monument Visitor Center in Grand Portage, MN (35 miles NE of Grand Marais on Highway 61). Please check-in with the front desk staff at the Visitor Center. For those traveling, we recommend finding lodging in Grand Portage. Possibilities include the Grand Portage Lodge, Hollow Rock Resort, or see Visit Cook County for other options.
Dates
Sat, Oct 2nd, 2021 – Mon, Oct 4th, 2021
Course Details
Tuition:
$255.00
Materials fee: $50.00
Latest Update:

View recent changes →
Asekewin: Traditional Hide Tanning