Anishinaabe-Style Beaded Baby Moccasins: Online Course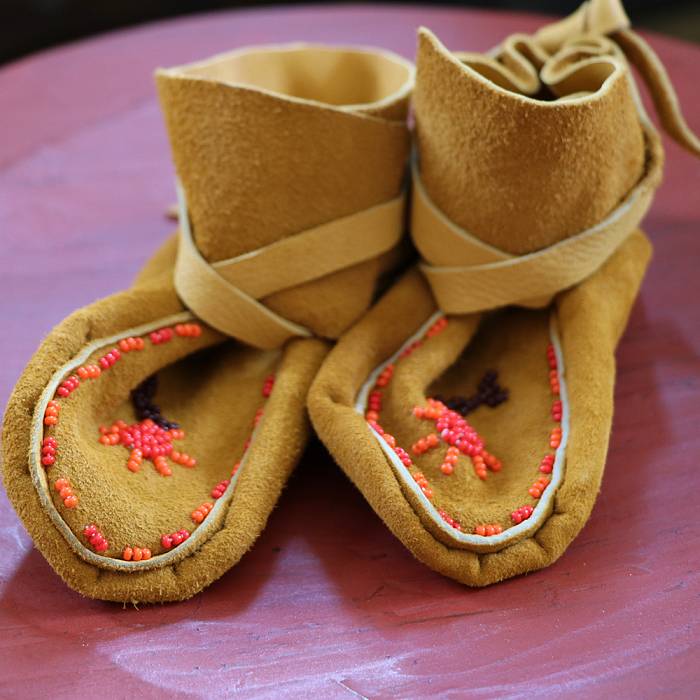 Course Overview
Discover the designs, color, styles, and technique of traditional bead embroidery while crafting moccasins designed for baby feet. Create a gift that will be treasured for years to come (and that will stay on those adorable little feet). Students will design and sew a pair of moccasins using quality tanned deerhide. Ojibwe cultural specialist and Grand Portage band member Marcie McIntire will teach the steps required for assembly and help students to design a pattern to finish a pair of moccasins with bead embroidery. Your materials fee includes a kit containing woven fabric, leather, beads, needles, and thread. As time allows, additional beadwork projects will be included.
Note: Registration closes two weeks prior to class so that the instructor will have time to mail out the materials.

Required Tools
Students will need to provide:
Thread scissors (craft scissors works too)
Matches
Small pliers
Paper and pen to take notes
Stable work space and a place to lay out your beads
Good lighting, and a comfortable chair
A laptop or tablet to join the Zoom class
Optional Tools
Reading glasses if you use them
Session Information
Registration closes on December 25, 2021 to ensure there is time to get materials mailed to students in time for class.
Dates
Sat, Jan 8th, 2022 – Sat, Jan 29th, 2022
Course Details
Hours:
2-4pm CST four Saturday afternoons January 8, 15, 22, 29
Tuition:
$120.00
Materials fee: $40.00
Anishinaabe-Style Beaded Baby Moccasins: Online Course