All Ground Up: Sausage Making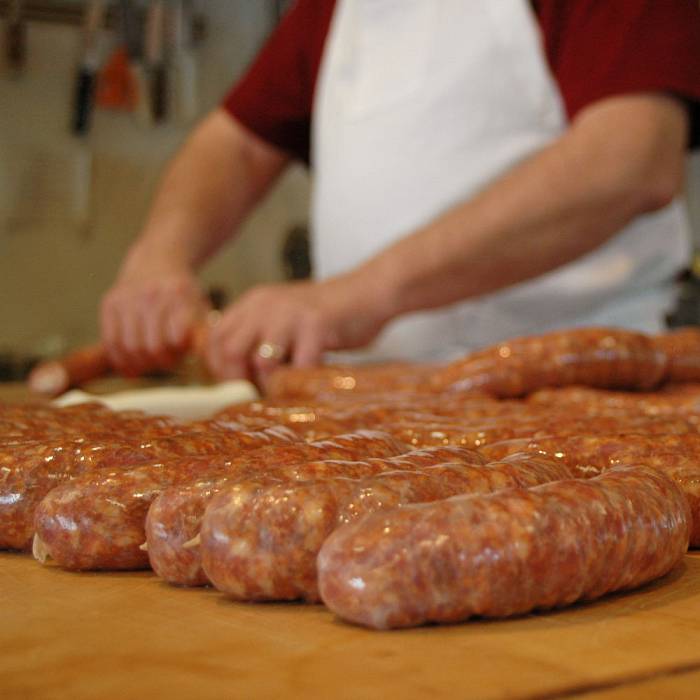 Course Overview
Make your own sausage, flavored the way you like it, using your favorite meats. As a class, students will make and take home four to five kinds of sausage of their choosing from a list of about ten varieties. These will be fresh, non-smoked, non-cured sausages like bratwurst, breakfast sausage, Moroccan, Polish, Italian, Chorizo, and more. Sausage meats include pork, chicken, beef, and if students choose, wild game brought from home (e.g. venison). Learn how to grind, season (using no MSG or preservatives), stuff, cook, eat, and serve the best sausages in the world–taking home about 25 lb of fresh sausage! Homemade, handmade, fresh from the kitchen—it doesn't get any better than this. Youth ages 10+ may register if accompanied by an adult.
Materials Fee
$80-$125 payable to the instructor during class. Please bring cash or check
Required Tools
Cooler to bring home your sausage (about 25lbs)
Apron
Short sleeve shirts
Optional Tools
If you have tools you would like to try out, please feel free to bring them. For example, a meat grinder, sausage press, or anything else used for sausage making that you may want to learn how to use.
Dates
Sat, Apr 20th, 2024 – Sun, Apr 21st, 2024
Latest Update:

View recent changes →
All Ground Up: Sausage Making