Getting ready for your upcoming class here at North House Folk School? We're excited to see you, and we hope the information below helps you prepare for your trip to the North Shore.
Tuition and Materials Fees
Tuition and materials fees are due three weeks before your class begins. Some courses require an additional fee to be paid directly to the instructor at the time of the class. Please see the course description in our catalog or on our website for details.
If you haven't already done so, you can give us a call to pay your balance over the phone with a credit card (888-387-9762), or with a check sent to PO Box 759, Grand Marais MN 55604 (be sure to note which class to apply the payment towards).
Tools and Materials
Each course may require students to bring tools or materials. Please consult your course confirmation email, or the course description on our website, for more information.
Check-in
Plan on arriving a bit before your class is scheduled to start. Your first stop on arrival should be the Yellow House (our school store), where you will check in, meet the staff and your weekend campus hosts, and receive a brief orientation.
Getting here
Grand Marais is located on the shore of Lake Superior, along scenic Highway 61, about two hours north of Duluth, Minnesota.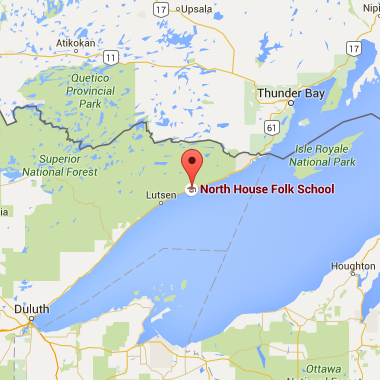 Automobile
From Chicago: 575 miles
From Duluth: 110 miles
From Milwaukee: 502 miles
From Minneapolis-St.Paul: 275 miles
From Thunder Bay, Ontario: 80 miles
Carpool info available at North Shore Rideshare
Shuttle Service available from Duluth through the Superior Hiking Shuttle
Airplane
Thunder Bay International Airport
Duluth International Airport
Minneapolis-St.Paul International Airport
Staying here
Although we do not provide lodging for students on campus, there are many campgrounds, hotels, and B&Bs nearby. Several of our Business Partners offer lodging discounts to North House students—just ask them when you make your resesrvation.
Meet our Business Partners
More lodging options
The restaurants, businesses, trails, and lakes around Grand Marais offer students and other travelers many opportunities.
Visit our Business Partners
Other places to eat
Other things to do in Cook County
Cancellations
If we must cancel a course, students will receive a full refund of any payments made for that course. Students who cancel their enrollment more than 21 days prior to the first day of the course will receive a refund less a $50 cancellation fee to cover administrative costs. In recognition of the time and energy instructors invest in preparing for courses, students who cancel their enrollment 21 days or less prior to the first day of the course are not eligible for a refund.
Campus Guidelines
Classroom Hours
Classrooms serve as a place of inspiration and engagement, offering students and instructors a setting to explore the joy of hands-on learning together. In the interest of student safety, classrooms are only open to students with instructor supervision.
Safe Use of Tools
Student health and safety are a priority at North House. Accordingly, students should only use hand tools and operate power tools after receiving an introduction to their safe operation. Students and instructors should wear appropriate safety gear (eye and ear protection) while using tools.

Classroom Visitors
Campus is open to visitors throughout the year. Balancing the needs of students and the curiosity of campus visitors is a task that requires mutual respect. To ensure that classroom visitors arrive at appropriate times, signage is available for instructors to make it clear when the classroom is "open" or "closed" to visitors. At all times, visitors are encouraged to respect the needs of both students and instructors, managing the duration and nature of classroom visits appropriately.
Student Projects
Inspiring and beautiful student-built projects are the satisfying outcomes of North House courses. At the close of the course, these projects are the responsibility of the student and need to leave campus.
Student Tools
Student tools are welcome on campus, but North House cannot guarantee their safety and is not responsible for loss or damage.

Pets
Dogs, cats, and other pets are welcome on campus as short-term visitors, but out of respect for other students pets are not welcome in classrooms during the day. Visiting pets should be on a leash. If you are in class, breaks during the day are often regular enough to give pet owners adequate time to attend to their pets. Pet-friendly lodging information is available upon request.

Cell Phones
Out of respect for the North House learning community, students and visitors are encouraged to turn off or silence their cell phones prior to participation in any program or course. If you do need to take a call please step out of the classroom.

Community Gatherings
On Saturdays, North House hosts a community event for students, instructors, and their families. April through October features a wood-fired pizza potluck, November through March a soup potluck. More details when you arrive, but please plan to attend.

Alcohol
Gathering as a community at the close of the day often involves sharing food and/or alcohol. With this in mind, drinking alcohol on campus is allowed in moderation and in a publicly respectful manner. Alcohol may not be consumed during the operation of tools or power equipment.

Parking
Several parking spaces are available in the upper parking lot area of campus. There is also ample street parking within a few blocks of campus including on both sides of Hwy 61. We invite you to enjoy the "pedestrian village" that is Grand Marais! Designated handicapped parking (with sticker only) is available in the lower commons area and the Green Building parking lot.