May-October 2021: Plan Ahead, Get Info, Work Together
Updated February 17, 2021
Overview
Important neighborhood improvements are underway! Highway 61 will be under construction again this summer and fall (scheduled to run May-October), with much of the work taking place immediately adjacent to the North House campus. Three key things to keep in mind:
Arrive a little early: pedestrian access to campus will remain possible throughout construction, but may take a bit of extra time.
Finding a different spot to park: parking along Highway 61 will not be available, but new public parking and nearby streets are both options (bring your walking shoes!) We will have on campus ADA parking available.
Remember, these improvements will make our community safer and even more pedestrian friendly: Grand Marais has been working towards these improvements for years, working together we can minimize the impact of a little extra dust and noise.
Resources
Several resources are available to help you anticipate how things will work — as additional information is available we will update this page.
North House Neighborhood Map
We created this map to make it easy to see pedestrian routes, nearby parking options, and construction areas. Download a printable version here.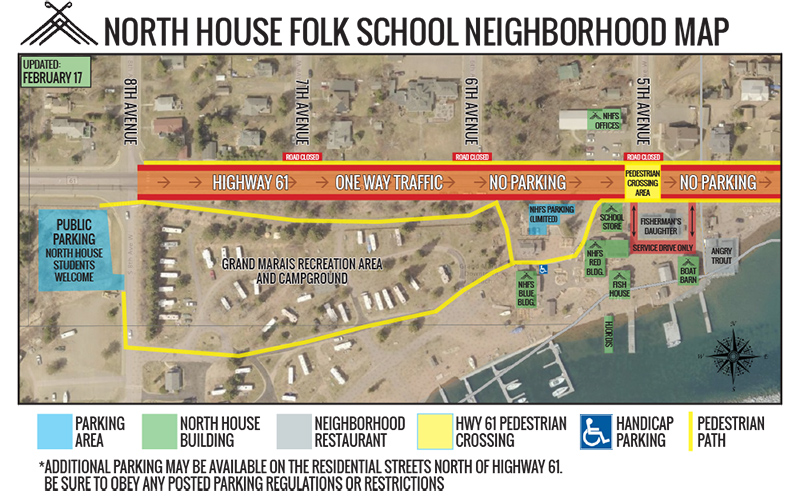 MN Dept of Transportation Detour Maps
Two different maps highlight the two distinct periods of construction (May-August and August-October) and alternative routes into Grand Marais.
Click the maps to enlarge, or download printable versions here: May-August and August-October
Project Information
We're excited about the increased pedestrian safety and campus access that will result following this long-planned project. During the same time period and linked into the Highway 61 construction, North House will complete two key campus projects: a new service driveway on the east side of campus (immediately adjacent to the Angry Trout) as well as a new pedestrian stairway next to our Yellow House/School Store.
To learn more about MNDOTs plan you can learn more about the project here.
Questions
We know a little advance planning and patience will be required from all of us. If you have questions or concerns about how this might impact you, please contact info@northhouse.org or 218-387-9762.