Intro to Wood Fired Baking
Thursdays 1-3 pm or Fridays from 11 am-1 pm, June 24th - September 10th
Program Overview
For new and seasoned bakers alike, experience the delight of baking in our outdoor wood-fired oven. In this two hour course, students will be introduced to baking bread and using a wood fired oven. Each student will get to bake carta di musica (thin wafer bread) and focaccia while exploring the history and science of bread baking.
COVID 19 Protocol
The class will be limited to one group or individual household per session of up to 8 people; it is up to the person making the registration to determine who is in their individual household. The class will take place in our indoor teaching kitchen and outdoors by the oven. All students will be required to wear a mask while indoors and complete a health check including a temperature scan upon arriving for class. Students will stay 6 feet apart from the instructor as much as possible.
Pricing
The base rate for the class is $100 which includes up to four students for the two hour class. Additional students from the same family group/household may be added to your registration for $25/student up to 8 total students. Children ages 7 and up are welcome in class with parents/family, all people (including children) count towards the total number of people in the group.
Registration and Check-in
There are two class sessions offered each week, Thursday 1-3 pm or Friday from 11 am-1 pm. You can register for available sessions online up to 1 hour before the start time. Beyond that, call North House for availability.
Once registered, you will check-in 15 minutes before the class start time at the Fish House on the North House campus. You may wish to bring a water bottle with you for class, otherwise everything is provided.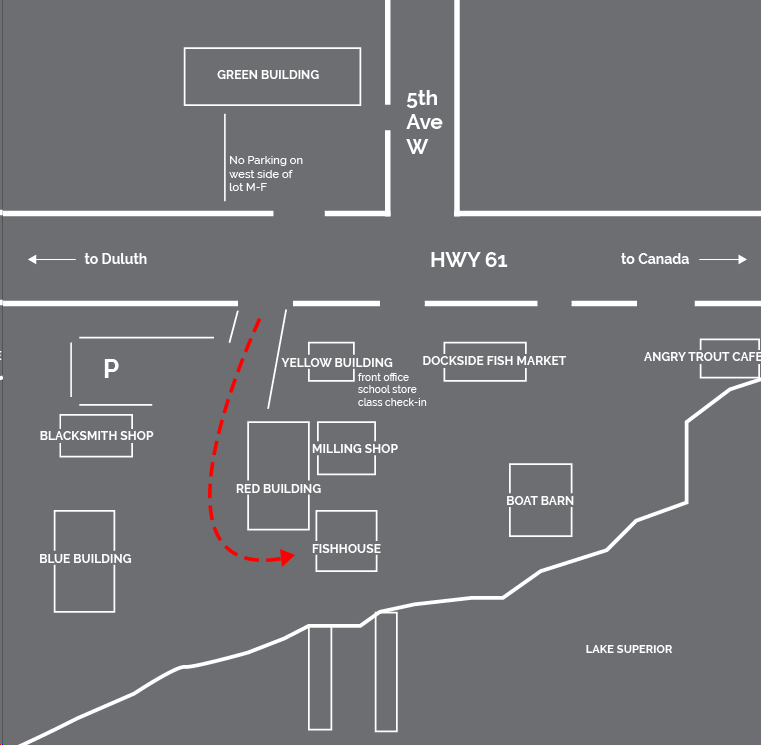 Please note there will be a major construction project on Hwy 61 this summer. Please click here for the latest information and parking recommendations.
Allow yourselves more time to navigate construction and get to campus in time for your class.
Cancellation Policy
A credit card is required at the time of your registration. Your credit card will be authorized at the time of your purchase, and then charged automatically on the day of your class. If you need to cancel, you can do so up to 48 hours in advance of your class. If you do not cancel your registration more than 48 hours in advance of your class you will be charged the full amount.
If you arrive for class and anyone in your household group does not pass the health screening (i.e. temperature above 100.4 F and/or presenting with or reporting symptoms of COVID-19), your group will be asked to leave and provided a full refund.