2021 Intern Portfolio Show
Learn about this year's Craft Education Interns' "Slojd" projects
Every year the North House interns wrap up their internship with a slojd project—a capstone that demonstrates their skills learned. This page catalogs their final portfolio show, held in person at Winterer's Gathering.
Wesley Hathaway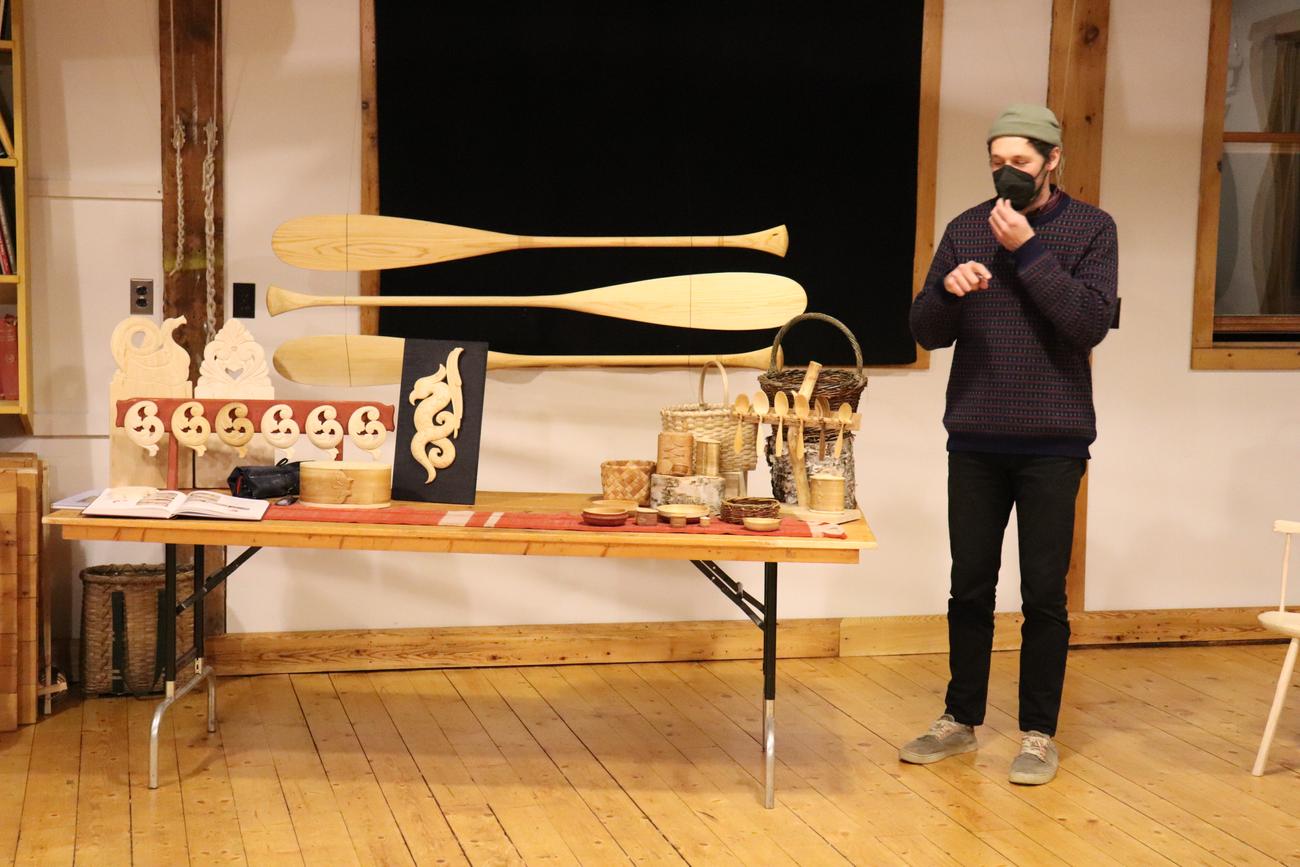 For my Slöjd Project, I am exploring various aspects of relief carving, including the acanthus leaf, gothic styles, and carvings commonly seen in medieval stave churches. Carving has been my passion for years now. Exploring the history, culture, and styles of carving/woodworking has also been something I have been drawn to. Relief carving seemed like a daunting path to explore, but the internship, with its resources and networks, has allowed me to gain the knowledge, space, and tools to explore these craft traditions. Focusing on carving will allow me to continue on the path of growth in a field of craft that I feel passionately about, and gain the knowledge to allow me to be better equipped to pass along these skills to others in the future.
Mary Tripoli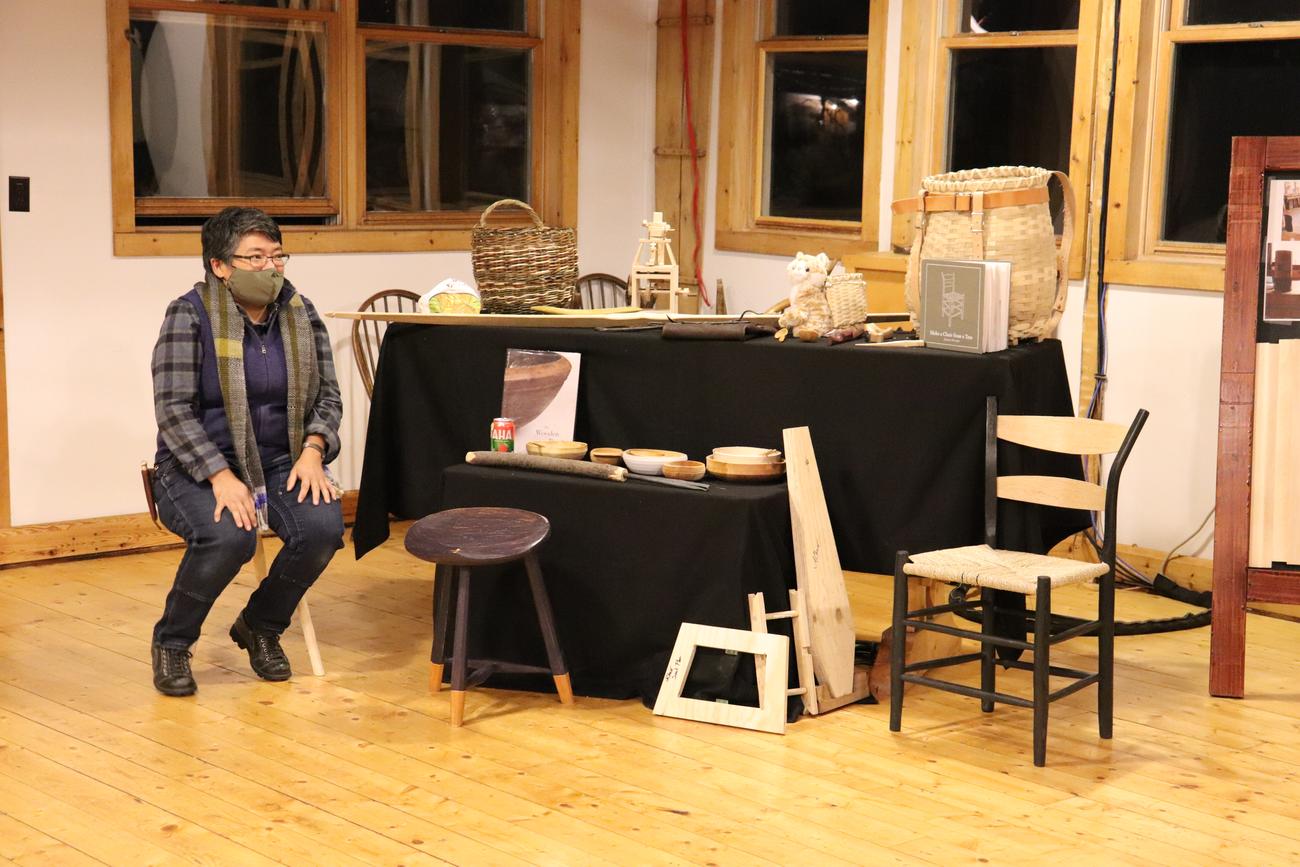 Jögge Sundqvist describes himself as "Int' oslög," meaning "not uncrafty". He is a person who is handy and practical. Resourcefulness and making tools and objects for the home is at the heart of slöjd philosophy. I am drawn to handcraft because the tools that are used to create are simple and have been in use for centuries across many cultures. I enjoy the tools as much as I do the making of an object. I thought it would be interesting to 'go backwards' a few steps and make tools to make Craft. This idea underscores slöjd's 'practicality and resourcefulness' tenets, as well as Jogge's idea that "Making your own objects [and tools] means taking part in the entire process." I learned about Jennie Alexander's chairs (JAChair) several years ago. They are beautiful and simple, and they are made using a combination of dried and green wood parts. During the late 70's and early 80's, she coined the term "greenwoodworking," as she published her groundbreaking work on ladderback chairs. Chairmaking seemed out of reach in my small home shop, so I put the JAChair aspirations on the back burner, but with more resources at hand here, I am keen to make and use tools familiar to me and to build some new tools for some chair building exploration. The centerpiece projects will be 2 chairs using 4 tools that I'll make: a travisher, spokeshave, reamer, and tenon cutter. I will also leave a JA Chair kit with North House (steam bending form, measuring jigs, story sticks) for the next makers to do a "Chair from a Tree."
Lauren Newby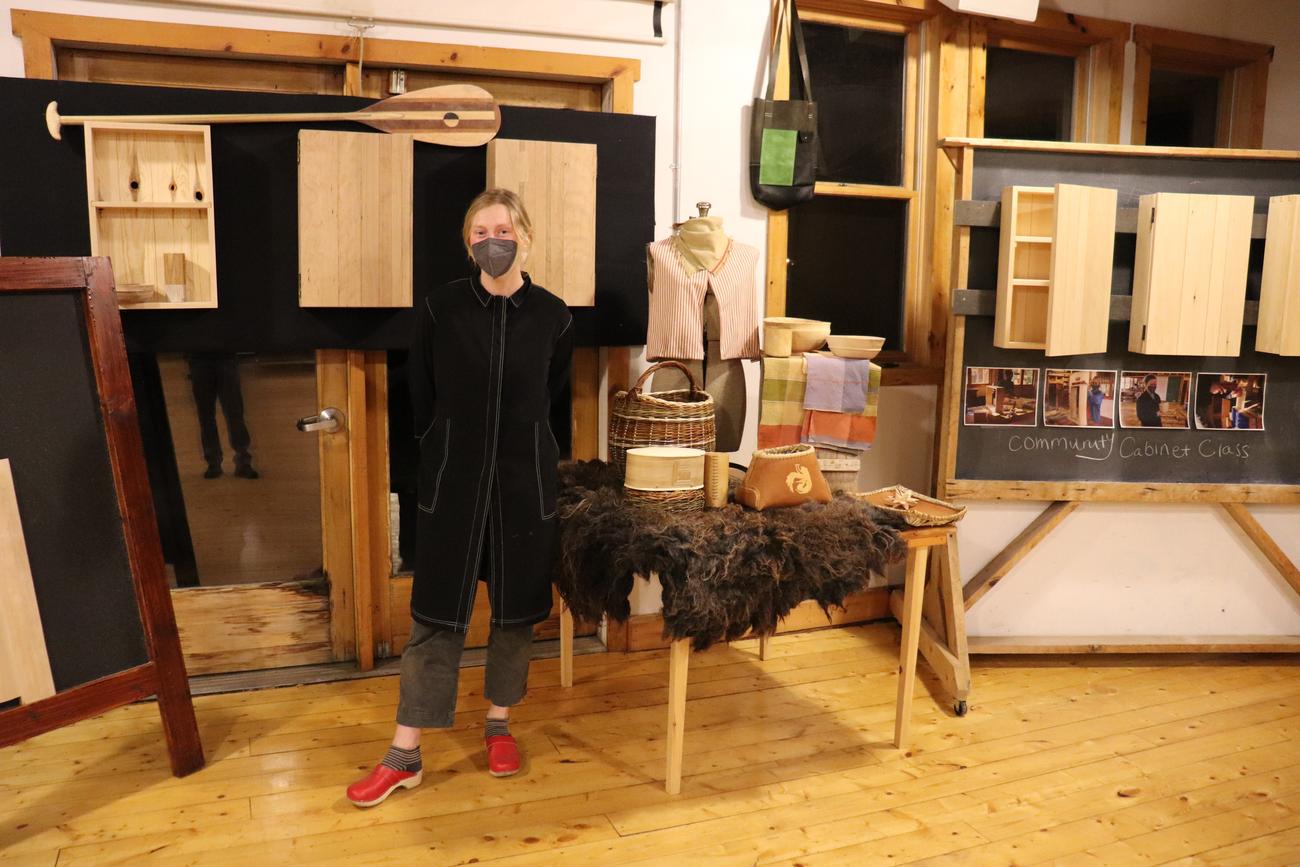 My Slöjd Project is focused on producing small cabinets utilizing traditional joinery techniques and passing those skills onto others. I am interested in devoting time to explore the materiality of wood, learn from current craftspeople, and observe the repetition of hand cut precision. While designing the cabinets, I have been practicing the dance of cutting dovetails. Understanding the tips and tricks of dovetails, I have put together a curriculum to teach a dovetail cabinet class to a group of community members. The class met in late October, and the students all successfully completed their projects .
To complete my project, I am looking forward to building a small batch of dovetailed cabinets, each with a unique door design. I have long been interested in finding a bridge between modern and traditional hand-tool woodworking. Building a small batch production run will inform my practice as a maker as I continue to explore how hand- tool woodworking traditions can be used in a modern setting with accessible methods.
Alex Blust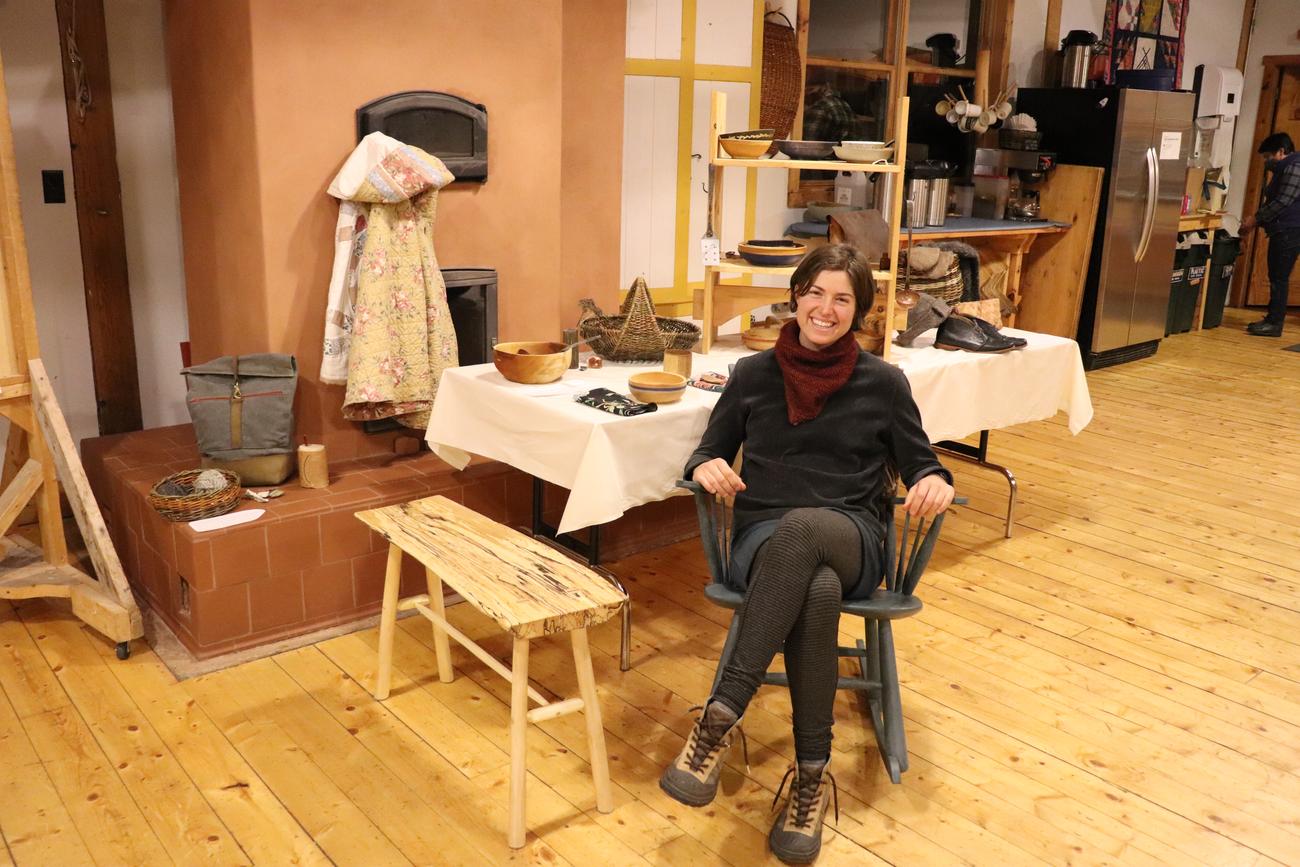 I am constructing a yurt for my Slöjd Project! This yurt will be an ambitious undertaking for me as a craftsperson. Constructing a yurt has given me more experience with alternative residential construction. Previously I worked as a residential remodel carpenter, but I have very little experience constructing a building using lashing or tension. I had only ever purchased materials from a hardware store, never had I constructed with green wood, nor worked with a local sawyer. I had hoped to gain alternative construction knowledge as a North House intern, and this project has enabled me to gain a variety of these skills.
Through this project I am also exploring the concept of home with the broader North House community. The majority of my career has been spent in fields related to housing. After college I spent years working with people that were experiencing homelessness. Doing direct service was beautiful, heartbreaking, and ultimately unsustainable for me. I left those jobs and entered the housing industry from another side: as a carpenter. These experiences have left me fascinated by how humans' lives are shaped by their relationship to home. As a part of my slöjd project I have been performing community interviews to learn about how people relate to the concept of home. Some of the people I interviewed will also help me build the yurt which will likely be my future home!