Viking Posament Bracelet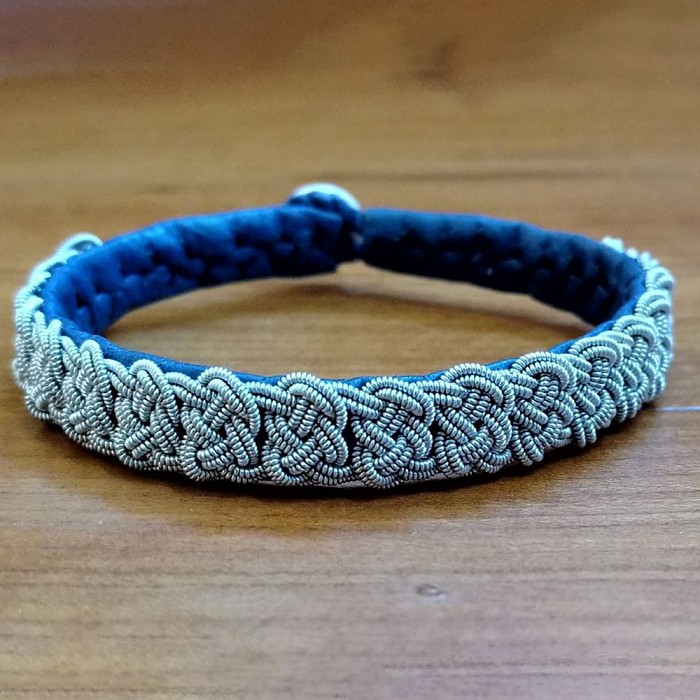 Course Overview
Some of the most fascinating objects demonstrating medieval craftsmanship have come from Viking burials of the 9th and 10th centuries in Sweden. The term "posament" refers to a method of knotting and braiding wire into ornaments used to decorate textiles. In this class students will practice the art of posament using nylon cords to perfect a "Josephine" series of braided knots. We will then construct a length of knots using pewter coiled thread (96% tin + 4% silver) and sew the finished braid to a softened leather strip to create a bracelet. A pewter button finishes off the bracelet. Previous experience with other pewter thread projects is desirable but not limited to the adventurous! This course is open to students ages 14+ if accompanied by an adult.
A materials fee of $125 per student to be collected by the instructor the day of class
Adult/child pairs will complete two projects and pay two materials fees.
Physical Ability/Skills Needed
All levels of proficiency are welcome. Please be advised that good hand strength, eyesight (I recommend the addition of magnifier glasses) and the ability to sit for several hours is required. A knowledge of sewing is not required but we will be using a variety of needles for sewing finished braids to leather.
Required Tools
Notebook
Ruler or measuring tape
Pencil or pen
Cash, check or credit card to pay materials fee to instructor
Optional Tools
Reading or magnifying eyeglasses
Favorite pair of scissors

Viking Posament Bracelet