Timber Frame: Build Your Own, Grindbygg-Style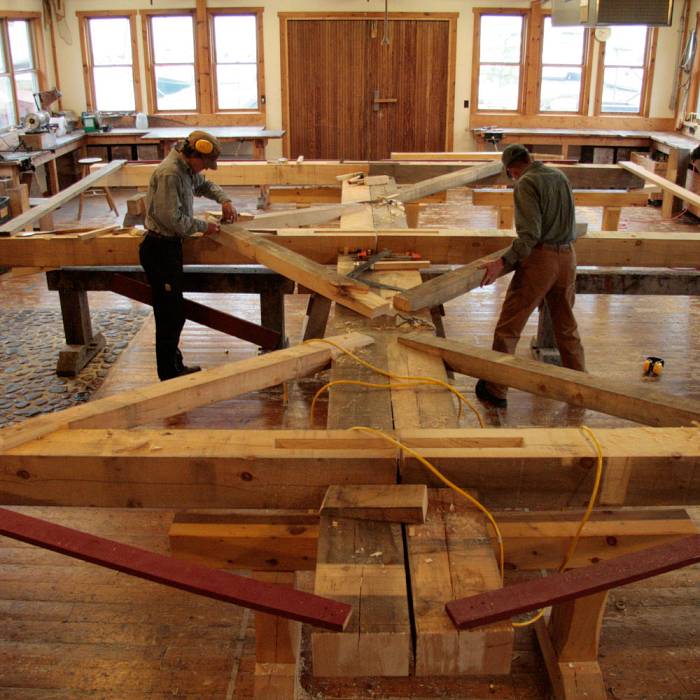 Course Overview
This course offers students the opportunity to immerse fully in the craft of Norwegian timber framing by building a custom-designed structure in the Grindbygg style. Whether creating a woodshed, carport, getaway cabin, or woodshop, the beauty and durability of a Grindbygg structure offers an opportunity to build your own unique space. The basic form of a Grindbygg frame is similar to many European and American timber frames: posts held together by tie beams and topped by wall plates supporting common rafters. Yet there are no mortises or tenons. The tie beam sits in a slot cut into the top of the post – a bridle joint. The "plate" sits on the tie beam and against the top of the post. All the bracing is let into the sides of the wall timbers and pegged. Braces can be straight but are commonly made from naturally curved birch or root knees.
To participate in this course, students will work with the instructor to design a frame to meet their individual needs. To make the project possible, students also recruit a group of assistants who journey to North House together to participate in the project. Interested students will consult with the instructor to determine scheduling and project timeline.
Throughout the class, participants will engage in lessons in the traditional layout and joinery techniques unique to grindbygg frames. Working together, the group of family or friends physically lay one timber on another to mark the joinery for subsequent cutting. Each day, another portion of the frame will be marked, cut and assembled. By the end of the course, the completed frame will be fully assembled and raised, ready for end-of-class photos and subsequent disassembly and transport home.
Every project includes a complete set of timber frame plans. The plan set includes 3-D and 2-D views of the frame, and a timber list. Tuition and course length varies depending on frame and group size (minimum four participants).
Separate tuition payment & cancellation policies apply to this course. North House uses only certified sustainably harvested timbers.
Project costs will vary, but two recent examples: 10'x20': $8,200 tuition & materials, 14'x22': $9095 tuition & materials
Payment Plan
Due to the unique nature of this project, a $4,000 deposit will be required with the balance due (determined after the final design) three weeks prior to the start of class.
Required Tools
Each participant ideally needs:
1 1/2 inch Chisel: you will need a chisel with at least a 5" blade. The Stanley "Contractor Grade" and Buck Brothers are less expensive options. Woodcraft and Sorby make good framing chisels, but make sure they measure exactly 1 1/2". The Barr chisel is an excellent tool and is available at the North House School Store for $127. (Call 888-387-9762 to reserve your tool)
Wood mallet: with a wood handled chisel you will want a 20­40 oz. mallet with wood, plastic or rawhide head. (Also available @ North House School Store).
ear and eye protection
Optional Tools
Approx one of each of the following would be ideal to have for each participant
framing square
combination square
tape measure
pencil
circular saw with sharp blade (thin kerf blades work well)
extension cord
hand saw (Japanese pull saws with both crosscut and rip teeth work well)
corner chisel
slick
Session Information
Please note: Due to the unique nature of this course, a deposit of $4,000 is required to reserve your spot. The final cost for tuition and materials will be determined after the design process is complete. (Approximately $8,000-$9,000) Design time is billed separately by the instructor.
Dates
Fri, Jul 15th, 2022 – Wed, Jul 20th, 2022
Course Details
Tuition:
$4,000.00
Materials fee: $4,000.00
Timber Frame: Build Your Own, Grindbygg-Style