Small Ash Market Basket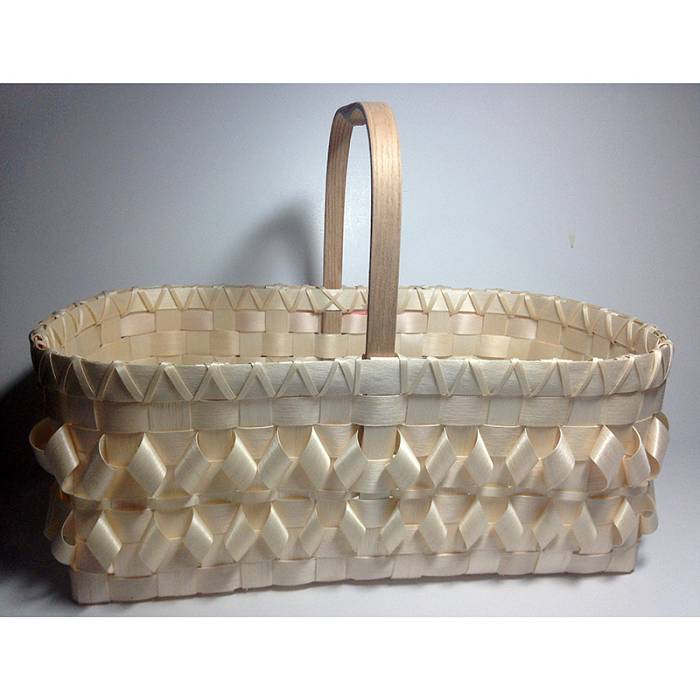 Course Overview
North House is excited to welcome the award-winning basket maker Kelly Church to Basket Week. Kelly is a fifth-generation Potawatomi/Odawa/Ojibwe basket maker and educator from southwestern Michigan, and a National Endowment for the Arts National Heritage Fellow, along with many other honors. In this class participants will weave a miniature style market basket based on the market baskets the Anishnabe would use to gather, carry items, or use for shopping as stores became the norm. The project will use black ash, harvested and processed by Kelly and her family. Each basket will begin with a plaited bottom, be built up in a rectangular shape with plaiting, and embellished upon completion.The finished basket will measure approximately 6 1/2" W x 4 1/2 " H x 10 1/2 " L (not including the handle). There will be ample time in class for discussion of biochemistry, forest management, invasive pest control, traditional language skills, and deep personal memories of family history.
Required Tools
All required tools will be provided.
Optional Tools
Scissors
Knife
Your favorite basket making tools
Session Information
This course will be part of Basket Week 2021! Plan to stay a day longer for the Basket Gathering on Friday, October 8 for demonstrations, talks and community gatherings, including a lunch-time presentation with Kelly Church. Full schedule available this summer.
Dates
Tue, Oct 5th, 2021 – Thu, Oct 7th, 2021
Course Details
Tuition:
$285.00
Materials fee: $200.00
Small Ash Market Basket