Sámi Inspired Four Braid Color Band Bracelet: Online Course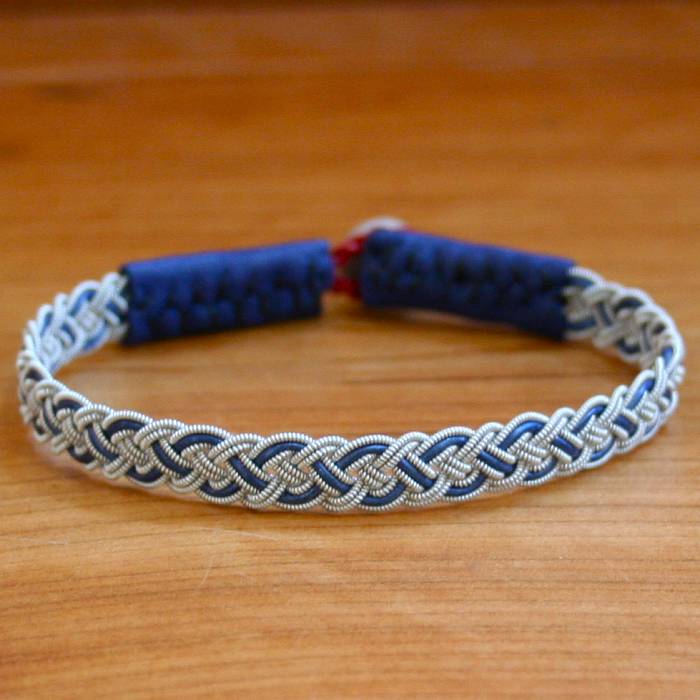 Course Overview
Want to try a colorful variation of a Sámi Inspired bracelet? Don't want to take the time to sew your braid to the usual strip of reindeer hide? Maybe you need a quick gift that's unique or you want a style with a little color. Whether you are beginner or seasoned crafter this braid variation has all the beauty of a traditional weave but with a punch of color. This "Scandic blue" bracelet is capped on the ends with matching reindeer leather and traditional style antler button and loop clasp. This is a great way to incorporate some color in your design and cut down on your sewing time to boot!
Note: Students will receive kits with all the necessary materials included by mail in advance. Registration for this course closes two weeks prior to class so that the instructor will have time to mail out the materials.
This course takes place virtually using Zoom.
Required Tools
You will need a laptop or tablet and reliable internet to access this live online course. A smartphone can work in a pinch but a laptop or tablet works much better.
Each student will receive a mailed packet that will include all the materials needed for the project.
In addition to the mailed materials, you will need to have on hand:
Scissors
Measuring tape or ruler
Rubber cement or Aleene's Tacky Glue (white or clear)
Toothpicks (for tacky glue)
Magnifier glasses if needed for close work
Thimble (if needed) for sewing
Optional Tools
Session Information
To ensure that materials arrive in time for class, deadline for registration is February 12, 2022
Course Details
Tuition:
$45.00
Materials fee: $55.00
Sámi Inspired Four Braid Color Band Bracelet: Online Course