Sail Training Trip: Isle Royale Circumnavigation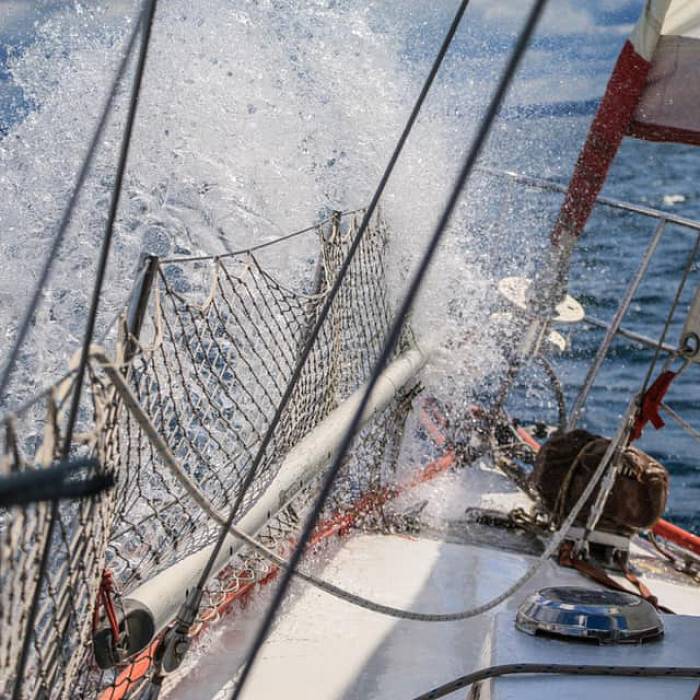 Course Overview
In the northwestern portion of Lake Superior is a unique and remote island archipelago. Isle Royale National Park preserves 132,018 acres of federally designated wilderness. The Park consists of one large island surrounded by over 450 smaller islands, located in the largest freshwater lake in the world.
Set sail for an adventure that only miles of wilderness, a seaworthy sailboat, and a seasoned captain can provide. North House partners with Amicus Adventure Sailing to provide a 10-day circumnavigation of Isle Royale. This trip involves approximately 200-250 miles of daytime sailing (with the possibility of overnight sailing depending on weather conditions), including two 9 to 12 hour passages to and from Grand Marais. Once we arrive at Isle Royale, hundreds of secluded bays and inlets are ideal for coastal sailing. While learning to sail and live aboard Amicus II will be the focus of the trip, hiking inland to lighthouses, museums, overlooks and former mines are offered when possible and weather conditions allow. A visit with Rolf Peterson, (chief scientist for the famous wolf-moose studies) and our own observations of Lake Superior's unique ecosystem in a rapidly changing climate are also part of the trip.
This is a sail training expedition so participants will be asked to take part in all aspects of the trip, including standing watch, navigation and sail handling, as well as day-to-day onboard duties cooking and cleaning.  Feel free to contact Captain Mark if you have questions about the trip: 218-290-5975.  To find out more about the boat and captain visit his website at  AmicusAdventureSailing.com to take a  Virtual Tour of Amicus II.
While no sailing experience is required for this course, participants should understand the rustic nature of the accommodations aboard Amicus II and the potential for challenging weather conditions and the physical nature of long distance sailing.  There is no shower onboard. While Amicus II is a spacious 40 footer, participants will have limited "personal space." Berths are enclosed by privacy curtains and double as living space during the day. Temperatures can range from the 70s right down to the 40s out on the Lake. Proper clothing is a must. There will be 5-6 people aboard altogether.
Tuition and materials fees include all food, lodging, and fees throughout the trip.
Youth ages 13-17 are welcome with an accompanying adult. Due to the nature of this course, the intergenerational discount does not apply.
Cancellation Policy
Due to the length of this sailing trip and the difficulty in finding replacement passengers on short notice, participants cancelling more than four months in advance of the trip will receive a 50% refund. Participants cancelling fewer than four months in advance will not receive a refund.
Required Tools
A packing list will be sent by instructor
Dates
Wed, Aug 2nd, 2023 – Fri, Aug 11th, 2023
Course Details
Hours:
Day 1: 5pm start; Final Day: 3pm finish
Latest Update:

View recent changes →
Sail Training Trip: Isle Royale Circumnavigation