Rosemaling: Beginning Hallingdal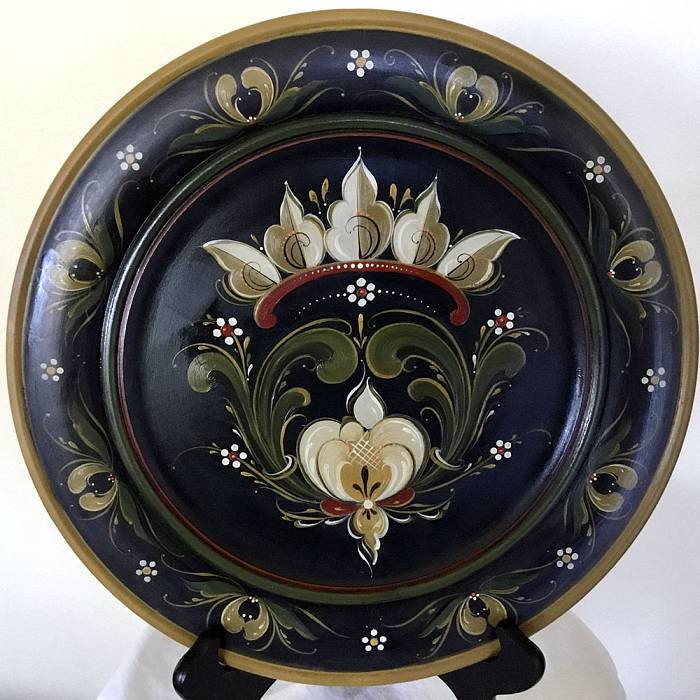 Course Overview
A Norwegian folk art, with roots in the Baroque and Rococo art of Europe, Hallingdal is one of the earliest styles of rosemaling and is excellent for beginning rosemalers. This class is targeted for brand-new rosemalers and will focus on correct technique, traditional colors, design, and having fun! Using acrylic and oil paints on basswood, students will have the option of painting a plate or a box with additional projects of Christmas ornaments for those interested.
An instructor fee of $20 covers the cost of plate, background paint, and foam brushes. For those wishing to paint a box, the fee is $30. Ornaments are $1 each.
For those without rosemaling supplies, a complete kit including paintbrushes, oil paints and all materials needed for the project(s) will be available for students if preordered. Cost estimated at $65.
Email info@northhouse.org to note your interest in buying a kit. All materials fees will be paid directly to instructor in class.
Required Tools
Students may use instructor supplies for an additional fee. A reduced fee is available for students who bring their own supplies. Instructor requests no turpentine or mineral spirits to be brought to class.
Brushes short-handle, round sizes 6 and 4. Raphael short liner brush size 2 short filber #4 for oil paint.
Walnut alkyd medium oil
Turpenoid natural (green bottle)
Tracing paper
Transfer paper
Palette paper 
Oil paint colors: (Rembrandt or Grumbacher) Prussian Blue, Burnt Umber, Raw Umber, Titanium White, Venetian Red, Yellow Ocher, Ivory Black. Optional: Cadmium Red Light
Optional Tools
While a basswood plate will be provided, students are welcome to bring in wooden pieces for independent design. Students may bring in prepainted (black green) practice boards (heavy cardboard). Class background color will be in black green but students may bring in Red iron oxide or Deep Midnight Blue for continuing projects.
Dates
Fri, Jul 7th, 2023 – Sun, Jul 9th, 2023
Latest Update:

View recent changes →
Rosemaling: Beginning Hallingdal