Rosemaling: Agder Online Course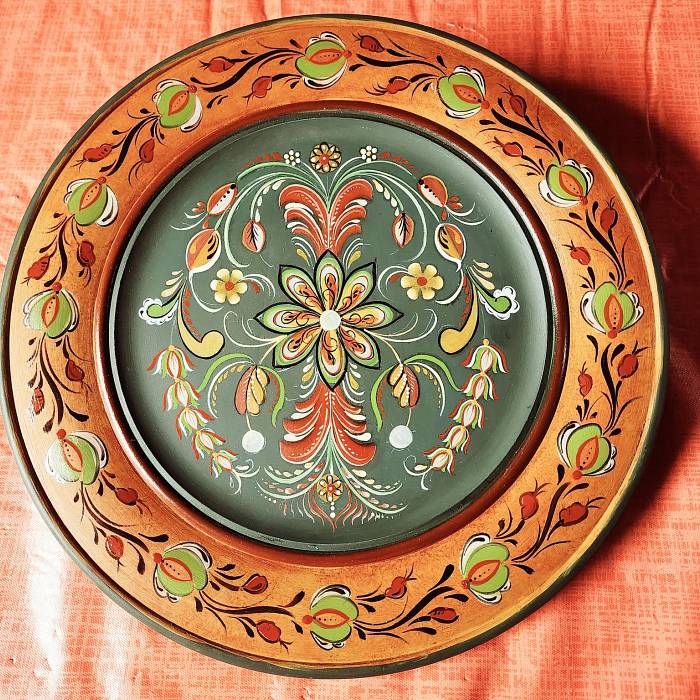 Course Overview
In this class, students will explore the Agder designs of southern Norway. You will discuss style differences between the regions of Vest Agder, Setesdal, and Aust Agder and then complete a project of your own designed by the instructor. This course is best for an advanced beginner and up, basic rosemaling knowledge or painting skills are needed.
Instructor-created designs will be sent by mail until 2 weeks before class starts. After that any new registrant will receive the designs by email.
THIS COURSE WILL BE TAUGHT IN OILS. If you wish to use acrylics you are welcome to attend but the course will focus on painting in oils.
Required Tools
Please bring these materials to class
Small jar with lid

Paper towel

Paper and Pencil for taking notes

Painting medium such as walnut alkyd medium or refined boiled linseed oil

Paint thinner/brush cleaner

Other painting tools you use
Oil Paint
Venetian or English Red

Terre Verte (green earth)
Yellow Ochre

Raw Sienna

Burnt Sienna

Raw Umber

Burnt Umber

Titanium White or Unbleached Titanium White

Cadmium Red Light

Mars Black
Brushes
Good brushes are important. Good brands include Princeton Velvet Touch or Heritage. Dick Blick also has a good brand called Masterstroke Golden Taklon. They are available online. See note from the instructor below for online companies.
# 2, & #4 Filberts, #6 filbert optional

#1 or #2 script or mid liners
Woodenware
The project is designed for a 12-inch plate with an 8 inch center. There is an inner and outer bead around the border. Anything with room for an 8-inch design will work. The design on the border can be adjusted to fit just about anything.
Plates can be ordered from https://montzkawoodworking.com (order right away) or Vesterheim Museum store has a good variety of plates as well.
Online art supply companies include www.jerrysartarama.com , www.dickblick.com , www.Vesterheim.org , Amazon has art supplies as well but not all in one place.
Dates
Fri, Feb 24th, 2023 – Sat, Feb 25th, 2023
Course Details
Hours:
Day 1: 2:30-8:30pm CST Day 2: 10am-12 noon; 1-4:30pm CST
Rosemaling: Agder Online Course