Pewter Thread Sparkle Earrings: Online Course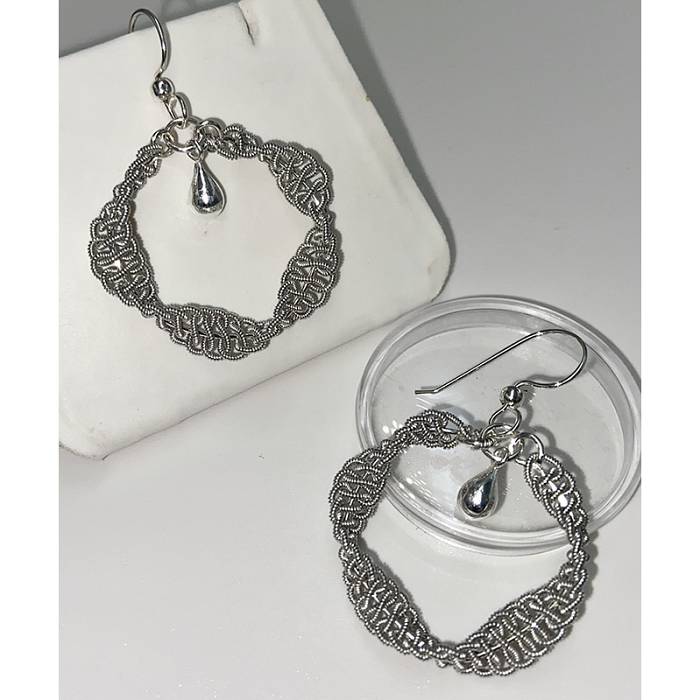 Course Overview
Explore a new "twist" on a traditional craft! Using pewter wire thread and a macramé style weave, students will create a pair of hoop earrings with a silver drop and sterling silver French hook ear wires. Finished hoops are approximately 1 inch in diameter and display a soft shimmery sparkle in sunlight and candle light. No previous experience is necessary, but a willingness to use hand tools is required. Kits come with all supplies needed with the exception of pliers. Two flat nose pliers are required, but if you don't own a pair they can be purchased in addition to your kit. Get ready to rock your own jewelry tradition!
Registration for this course closes two weeks prior to class so that the instructor will have time to mail out the materials.
Required Materials
Two flat nose pliers (You can purchase from the instructor to be added to your kit for $24 if you don't have them. Instructor contact information will be in your confirmation email). Extra magnification for up close work (jeweler's loupe, cheater glasses etc.).
A laptop or tablet with reliable internet.
Session Information
To ensure that materials arrive in time for class, deadline for registration is December 29, 2021
Course Details
Tuition:
$50.00
Materials fee: $85.00
Pewter Thread Sparkle Earrings: Online Course