Penny Rugs: Woolen Mosaics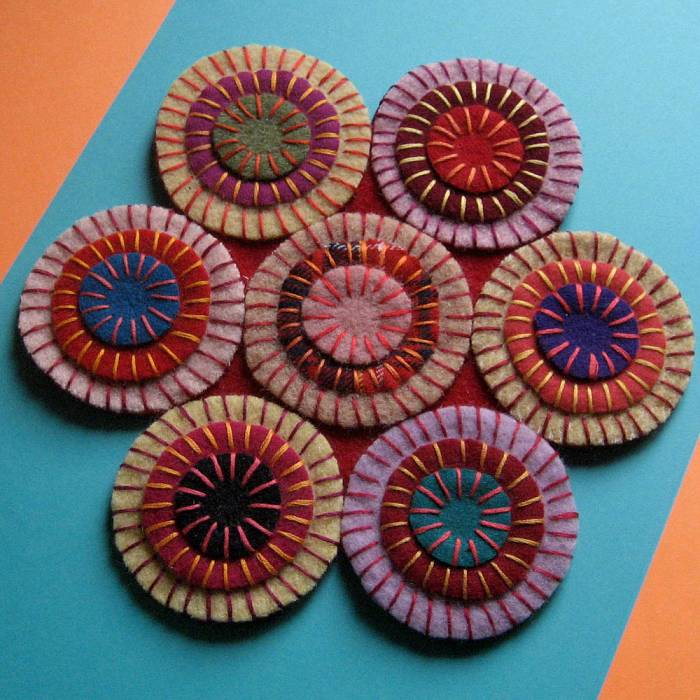 Course Overview
Penny rugs use felted wool scraps to create a textile feast for the eye. Multicolored scraps are arranged in contrasting and complementary colors to create table runners, placemats, and more, making a room come alive with color. Shapes of descending sizes are layered onto a wool background piece and stitched into place. Called "penny" rugs because the original template was a copper penny, these pieces have offered a frugal way to indulge in creative expression since the early 1800s. In this class, you'll design and finish one project, with the possibility of pursuing a larger piece or starting a second project. While they are called "rugs," the finished product is too beautiful to walk on and makes a great table runner, trivet, pillow cover, or colorful touch.
No sewing experience is needed. Adult and youth pairs age 12+ are welcome, along with youth ages 12+ working independently.
Required Tools
Optional Tools
Eye magnification if you need it
Embellishments such flat buttons and beads
Dates
Thu, Feb 14th, 2019 – Fri, Feb 15th, 2019
Course Details
Skill Levels:
Beginner to Advanced
Hours:
Day 1: 1pm-5pm; Day 2: 9am-5pm
Intergenerational age:
10+
Tuition:
$155.00
Materials fee: $20.00
Required
You will need the following tools for this class:
small sharp scissors
More Information
Once registered, students will receive a confirmation email with further class information. Please call us if you haven't received it within 24 hours.
Penny Rugs: Woolen Mosaics - 2/14/2019