Patterning Techniques: Make a Sewing Pattern from a Favorite Garment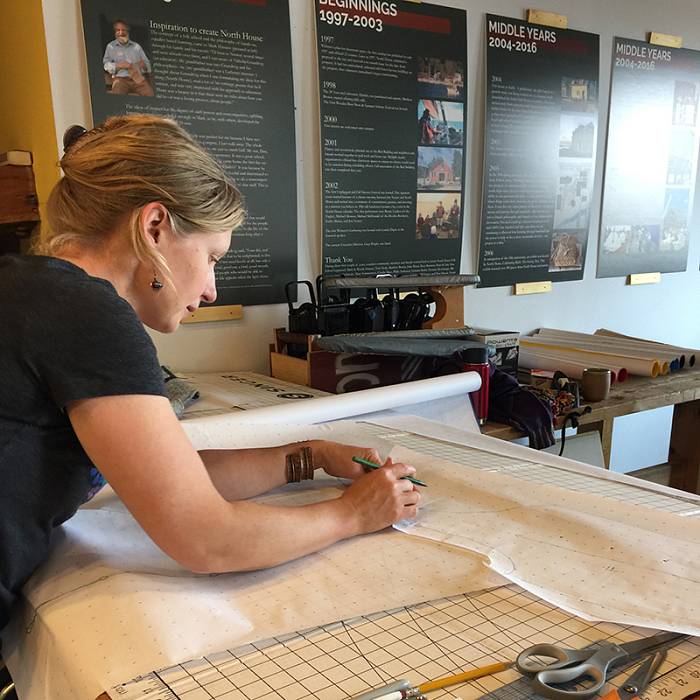 Course Overview
Bring a garment that you love - or cannot live without. You will not have to take it apart! You will learn to make a pattern that duplicates the cut, and even adds features such as more pockets or design details. Three techniques for copying patterns from existing garments will be demonstrated, which then are used in combination, depending on the original design features. We will decide which technique or combination of techniques works best for the garment you are making. Men's and women's or children's shirts, jackets, coats, skirts, dresses, pants, accessories are all good choices. You can start with a favorite well-worn garment, or a vintage find - all are excellent projects. These techniques also apply to reproducing museum artifacts, although your first patterning project should be based on a garment which you own. You will learn to make an initial pattern, refine and mark the pattern, sew and fit a personal mock-up. The schedule will include two days learning patterning techniques and making your pattern, one day with fittings and adjustments, and two days with expert guidance constructing your garment. When you leave class you will be well on your way to finishing your treasured garment and will have a new sewing skill that inspires your future sewing projects.
Dates
Sat, Feb 16th, 2019 – Sun, Feb 17th, 2019
Course Details
Skill Levels:
Intermediate to Advanced
Tuition:
$190.00
Materials fee: $20.00
Required
You will need the following tools for this class:
Basic Sewing Kit including the following items:
Paper scissors
Fabric cutting scissors
Smaller scissors for clipping and trimming
Seam ripper
Tape measure
Hand needles
Pin cushion
Pins
Thimble
Fabric marking tools (such as pencil, disappearing marker, chalk, wax)
Clear plastic ruler (suggest 2" x 18" type used by quilters which cost about $9.00)
Spool thread - white and a color-of- your-choice that works on your sewing machine
Pens, pencils
Notebook
Sewing machine – If you own a portable sewing machine, please bring it to class. Test it before coming to class to check that it is in working order, and know its basic operations. If you cannot bring one, North House has machines you can use, and you will be given basic instruction for their use. We will use sewing machines primarily to baste (temporary stitching) the pieces together for your pattern mock-ups. The machine sewing techniques needed for this pattern mock-up will be simple seams. Also bring: Sewing machine needles and bobbins to fit your machine.
You are encouraged to also bring along any sewing tools that you enjoy using for hand and machine sewing.
Optional Tools
Materials for pattern mock-up to purchase from instructor
(This might come to about $10.00; the yardage you need depends on the size and complexity of your project):
I will have a variety of white/off-white inexpensive materials available for sewing mock-ups. Depending on the weight and texture of your original garment, your mock-up fabric might be Swedish pattern cloth, cotton muslin, organza, knit, fleece, etc
Marking tools you can purchase from instructor in class
You do not need to purchase these; you can use the instructor's in class.
Needle wheel,
Large size professional tracing paper,
Foam core for mounting tracing paper
(Total if you wish to purchase is about $20.00)
More Information
Once registered, students will receive a confirmation email with further class information. Please call us if you haven't received it within 24 hours.
Patterning Techniques: Make a Sewing Pattern from a Favorite Garment - 2/16/2019