Nothing New: Make a Quilt from Old Clothes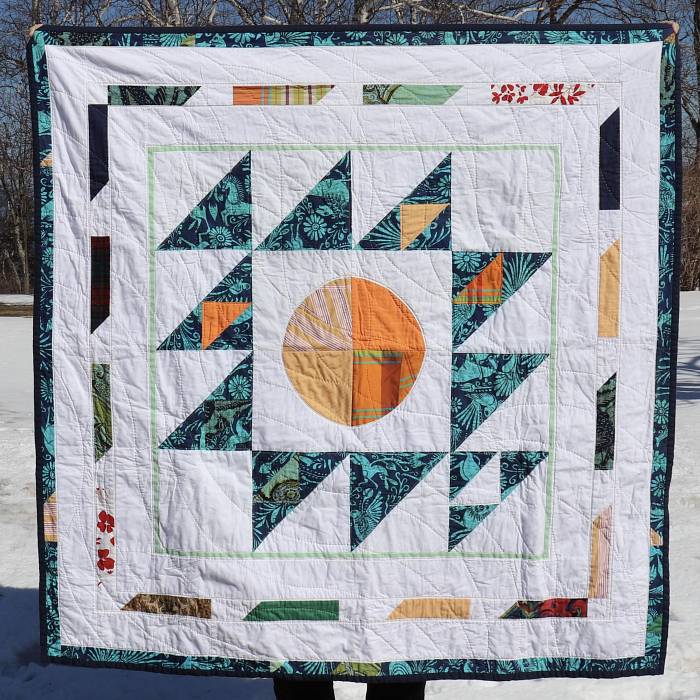 Course Overview
Quilting is a way to re-use old garments that are beyond repair, turning them into something beautiful, unique, and functional. It is also a fun and forgiving way to develop sewing skills. In this class, we will work with old garments as our starting point for quilts. These may include clothes destined for the landfill or those saved from a specific time in life. In past classes, beautiful quilts have been made from inherited fabrics, wedding linens, and other materials.
Use old clothing or other salvaged fabric to make a personalized quilt from start to finish (approximately 40"x40" or larger, if desired), or make a quilt top to quilt at home. We will start with an overview of historical quilts to get inspired and then we sew! Discussions will include designing and piecing traditional patterns in an improvisational and intuitive way, with step-by-step guidance through quilting and binding. No intimidating math or expectations of precision here. The result will be a  beautiful, personal, and unique quilt. While this is a great class for beginners, it can also be useful for any quilter looking to refresh their creative process. This course is open to students ages 16 and older.
Provided materials
Irons and ironing boards, thread, pins, and other miscellaneous materials. North House has sewing machines available to students who are unable to bring their own. The instructor will email participants two weeks before class to assess and plan materials needed for each participant.The instructor will bring enough batting, binding, and backing fabrics, as well as supplemental materials to add to your quilt if needed.
Materials Fee
Materials will be purchased from the instructor during class. Costs will generally come to $50-$60. Please bring cash or a check for paying instructor.
Required Tools
A functional sewing machine and basic working knowledge of it. There may be time to answer some questions related to sewing machine maintenance, but instruction will focus on design and sewing processes.  North House can provide machines for students to use. Please contact info@northhouse.org at least two weeks before class to request use of a sewing machine. 
2-4 cotton or cotton-blend garments or other pieces of cotton fabric that have lived a full life and are ready to be cut into small pieces and sewn into a quilt. No t-shirt material please. Denim is welcome with the understanding that it may require a heavy duty sewing machine and denim-specific sewing machine needles.More details will be provided in an email from the instructor two weeks before the class.
Dates
Thu, Aug 17th, 2023 – Sun, Aug 20th, 2023
Course Details
Hours:
Days 1-3: 9am-5pm; Day 4: 9am-noon
Latest Update:

View recent changes →
Nothing New: Make a Quilt from Old Clothes