Norwegian Telemark Style Rosemaling: Holi-dala Horse Online Course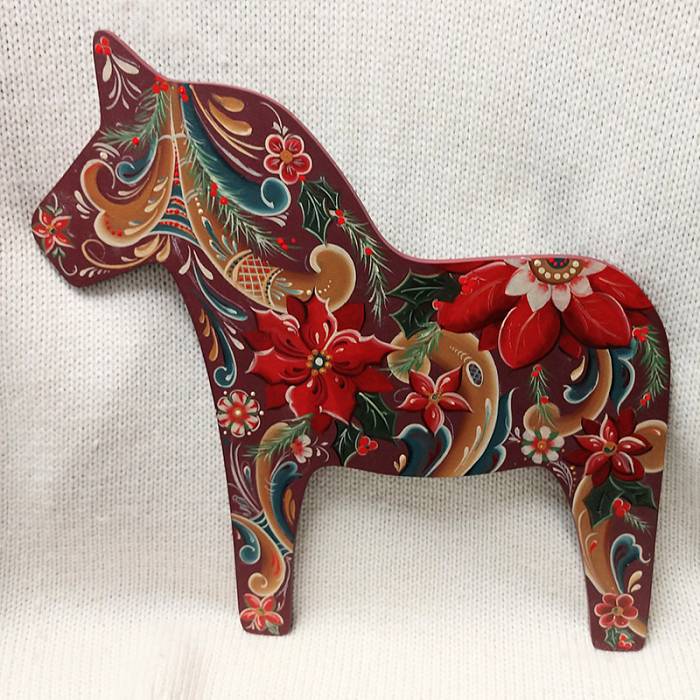 Course Overview
Get festive with Telemark style rosemaling on a wooden Dala horse plaque. Kim has designed a holiday-themed Dala horse that will allow you to practice your Telemark style skills. This course is for rosemalers who have some experience studying Telemark style before.
Students will order and gather their own materials ahead of time for this course, and will need to apply background paint to their dala horse plaques before the day of class.
Course Details
Skill Levels:
Intermediate to Advanced
Hours:
10am-1pm Central Time
Intergenerational age:
N/A
Required
You will need the following tools for this class:
Oil Paints ( Kim uses Rembrandt brand unless specified but you can use whatever brand you prefer):
Yellow Ochre
Raw Sienna (Grumbacher brand)
Burnt Sienna
Greenish Umber
Titanium white
Mars black
Prussian blue
Venetian or English red
Alizarin Crimson
Terre Verte
Burnt umber
Raw umber
Caput Mortum (violet)
Cadmium red light
Cadmium Red Deep
Optional: unbleached titanium white (Williamsburg brand)
Background Paint (Americana , Delta Ceramcoat or JoSonja Background paints are available at www.Hofcraft.com)
You can background your dala horse in a berry color red or a forest green of your liking. You can also use an off white or ivory but if you choose a white you should apply a coat of all purpose sealer or clear glaze medium before you put on your design. This will help remove paint without staining the background if you make a mistake. You can also apply the sealer or glaze to the green or berry color background but the oils are less likely to stain these colors. All purpose sealer and clear glaze medium by JoSonja are also available at Hofcraft.
Kim uses JoSonja Background Paint Claret Rose by Chroma, or Decoart Americana Dark Forest Green , or Delta Ceramcoat Antique White.

The Dala Horse is available on Etsy at CraftCutConcepts
https://www.etsy.com/no-en/listing/739041947/dala-horse-shape-large-small-pick-size
Order the following size: 12 inch dala horse ¼ in inch thick
Before class: Background the horse with 2 coats of the color of your choosing, sanding lightly in between coats and before applying design. Sand lightly before applying sealer or glaze if you use it. Make sure you apply the design AFTER the glaze or sealer.
Other Supplies:
Walnut Alkyd Medium by M. Graham or Boiled Linseed Oil
Odorless Paint thinner or Brush cleaner
Palette Paper
Tracing Paper
Transfer Paper
Liquin Original ( for dots…nice but not necessary)
Pen / Pencil
Painters tape
Lint free paper towel
Brushes (King Art Original Gold available at Hofcraft or brand of your choice)
Size #2, 4, & 6 filbert or shader (Kim typically uses filberts but some prefer shaders )
Size #1 or 2 mid liner or script liner
Other Art Suppliers
More Information
Once registered, students will receive a confirmation email with further class information. Please call us if you haven't received it within 24 hours.
Norwegian Telemark Style Rosemaling: Holi-dala Horse Online Course - 12/12/2020