Millinery: Blocking the Straw Hat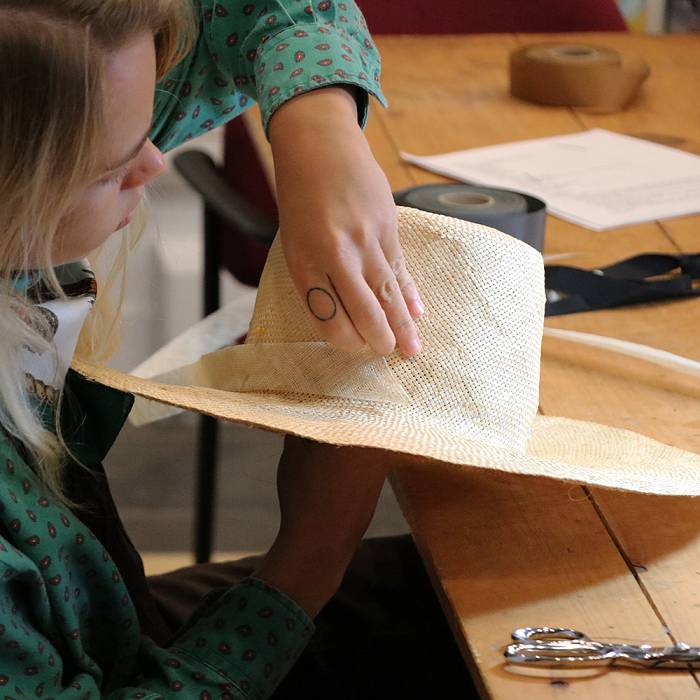 Course Overview
Stylish, cool and durable, these are a far cry from a farmer's hat! Craft your own personalized straw hat using millinery parasisal or Panama straw blanks. Over a two day period, you will block and finish at least one straw hat. Starting with a "blank," finely woven straw that comes from skilled artisans in Ecuador and China, we will transform them into functional and beautiful hats. A variety of options from the classic Panama hat to the pork pie to something you dream up from your own sense of style are possible. Students will choose from an array of buttons, ribbons, beads and feathers to personalize their creations.
The class is open to both beginning and advanced milliners. Students should come prepared to have their hands in hot water and be ready for an extensive amount of hand sewing. Sewing experience is helpful, but not necessary.
Dates
Thu, Jun 13th, 2019 – Fri, Jun 14th, 2019
Course Details
Skill Levels:
Beginner to Advanced
Intergenerational age:
13+
Tuition:
$225.00
Materials fee: $55.00
Required
You will need the following tools for this class:
All required tools/materials are provided by your instructor and North House and will be available once the course begins.
Optional Tools
Bring favorite sewing notions such as thimbles and thread snips. Feel free to bring beads, buttons, ribbons and feathers that you may want to use on your hat. The instructor is ready to provide everything you need, but should you have something special in mind, do bring it.
More Information
Once registered, students will receive a confirmation email with further class information. Please call us if you haven't received it within 24 hours.
Latest Update:

View recent changes →
Millinery: Blocking the Straw Hat - 6/13/2019