Mast Hoop Leathering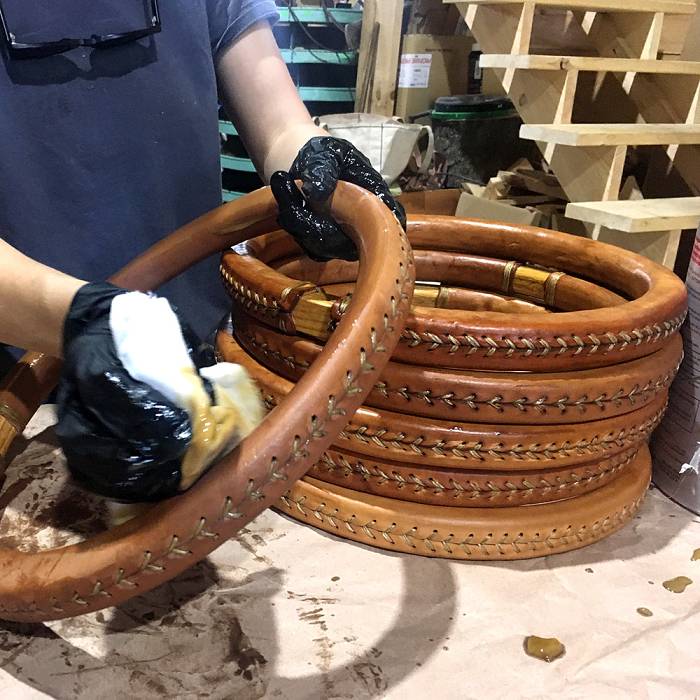 Course Overview
Among nautical crafts, few traditions are as obscure and wonderful as the art of the mast hoop: thin wood strips bent in seemingly impossible diameters, riveted around the mast, covered with leather, and lashed to the sail. When we call Hjørdis a traditionally-rigged schooner, these hoops are part of what we're talking about.
The oak hoops have been bent and riveted; the task left is to wrap in leather and stitch. The leather will provide a degree of chafe protection and prolong the newly painted masts. Learn about the process of sewing leather using cross or baseball stitch. Your work will be on display on Hjordis for years to come. No experience required.
Session Information
This event is part of our volunteer and service learning weekend. Participants are welcome to come to a celebratory pizza bake on Saturday evening.
Photo Credit: Schooner Apollonia - Hudson Sail Freight
Dates
Fri, Apr 22nd, 2022 – Sat, Apr 23rd, 2022
Course Details
Hours:
Friday 6-9pm, Saturday 9am-4pm
Mast Hoop Leathering