Introduction to Tapestry Weaving, Level 1: Online Course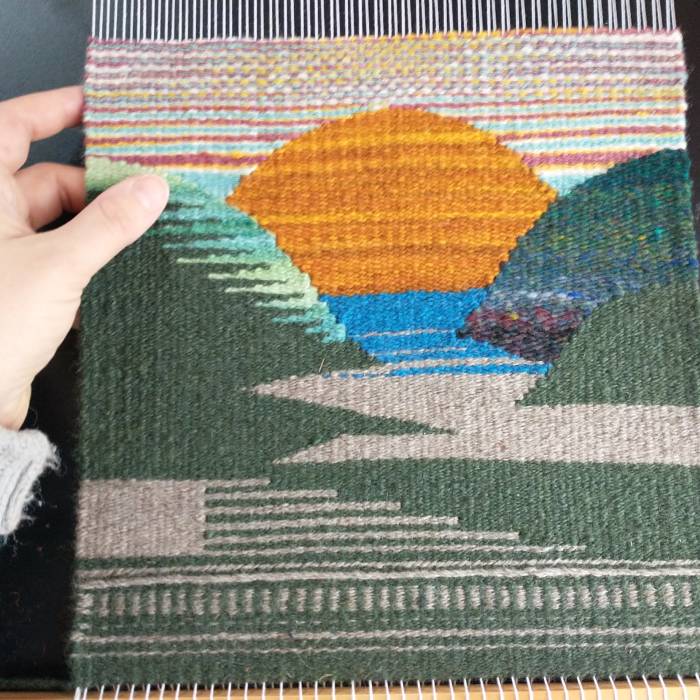 Course Overview
Curious about how tapestries are made and ready to try your hand at pictorial weaving? This most ancient form of textile creation is rich with history and invitation for creative expression. Master weaver Laura Berlage will take you on a multi-week journey into the magical world of tapestry, where you will learn to transform warp and weft into a peaceful sunset landscape, measuring approximately 10x10 inches. Starting with a simple frame loom, focus will be given to establishing good tapestry technique and learning the process for horizontal and angled forms—beginning with foundational geometrics and building into more naturalistic forms. Fundamentals of cartoon creation and shading will also be covered. Unlock the mystery of how tapestry is made and add these skills to your expressions in fiber. Join us for this welcoming online class!
Kit Includes
Colorful wool yarn from the instructor's sheep

Cotton weft thread

Frame loom and shed dowel (please assemble before our first class)

Weaving comb

Tatting needles

Full scale cartoon (design)

Digital access to photo essay and pre-recorded tutorials
Required Tools
Students should provide the following.
Hammer and wood glue for assembling loom (prior to first class)

Tapestry needles (short, large-eyed, blunt-ended needles)

2 binder clips large enough to clamp onto the narrow parts of the frame loom

Sharp scissors

Tape measure

Masking tape (optional)

Sharpie
Dates
Fri, Jan 27th, 2023 – Fri, Mar 3rd, 2023
Course Details
Hours:
3-5pm CST each date
Tuition:
$230.00
Materials fee: $122.00
Introduction to Tapestry Weaving, Level 1: Online Course