Inkle Loom Weaving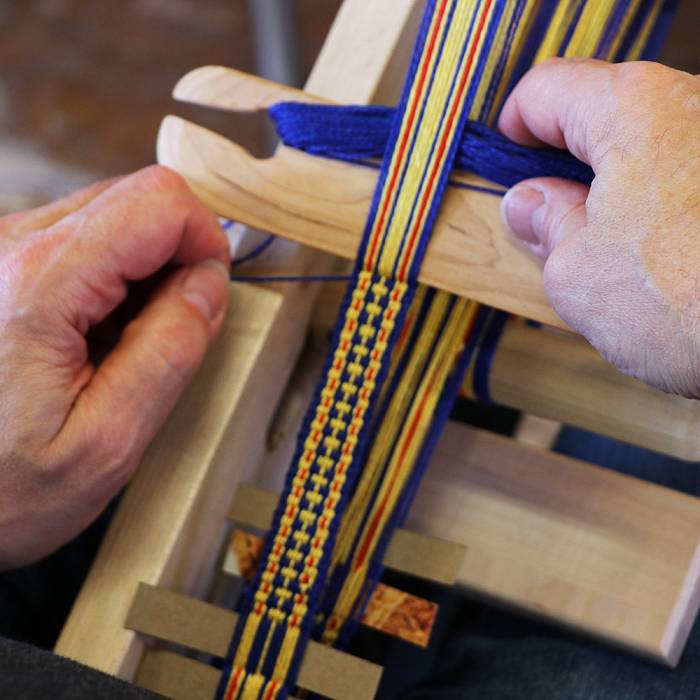 Course Overview
Inkle looms are a great way to get started with weaving: they require little additional equipment, are easy to use and understand and are easily stored. Specially designed to be used for making strong, patterned bands, inkle looms are used for weaving belts, laces, bookmarks, guitar and other instrument straps, leashes--anything that requires strength, durability and beauty. On the first day of class students will warp the loom and learn how to design and weave bands. The second day they will design and weave a project of their own choosing while learning further ways that the inkle loom can be used. This course is open to students ages 16+.
Required Tools
Small scissors
Tape measure
Optional Tools
Feel free to bring your favorite tools and whatever materials you might feel appropriate for this course.
Session Information
'Inkle' is the Old English word for a linen band or drawstring, hence an inkle loom is a loom on which these were made." The word "inkle" has been in use in the English language for over 400 years, and even is mentioned in a few Shakespearean plays.
Dates
Mon, Jul 11th, 2022 – Tue, Jul 12th, 2022
Course Details
Tuition:
$170.00
Materials fee: $15.00
Inkle Loom Weaving