Handwoven Wool Tote Bag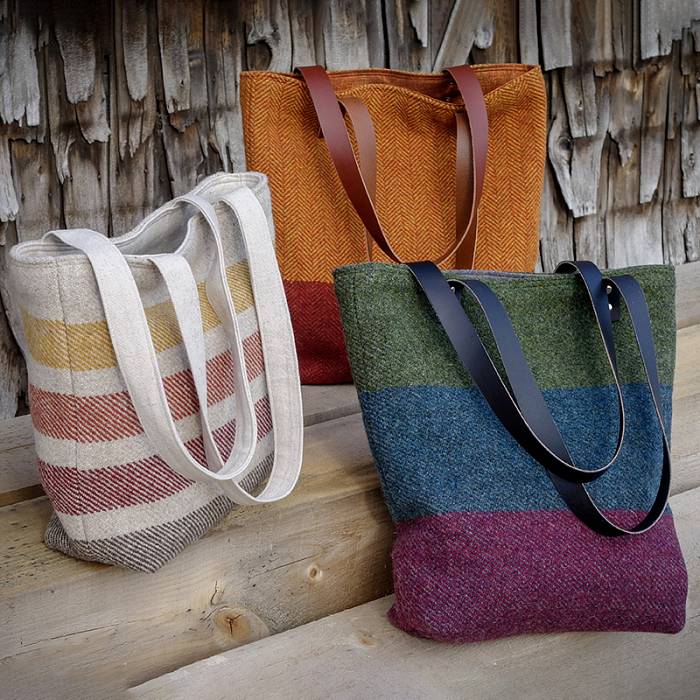 Course Overview
Design, weave, and sew your own custom wool tote bag, perfect for all of your north woods adventures. Students will create a custom bag approximately 15"x15"x3", woven with a basic twill structure. After designing and weaving their wool yardage, students will gain experience fulling their wool cloth to create a sturdy fabric for their tote bag construction. Students will also gain experience sewing with handwoven fabric. Bags will be lined with material purchased by the student, and handles will be sewn from the liner material, or optional leather handles can be purchased from the instructor for an additional fee of $20. There will be numerous options for customizing the bag, including the size, color, pattern choices, addition of pockets, straps/handles, etc. Students must have beginner level weaving experience and be able to warp a floor loom with minimal assistance. Some sewing experience will also be helpful. The class is designed to be accessible to beginning weavers who are hoping to gain more weaving experience, but is also suitable for intermediate weavers who are looking to gain skills in sewing with handwovens. This course is not suitable for students who have never worked on a floor loom before. 
Required Tools
1 yard liner fabric – quilting cotton weight or similar, and matching thread. Please wash the fabric to preshrink it, and press the fabric.
Large bath towel
Colored pencils
Pins and pin cushion/magnet
See-Thru Clear Plastic Ruler (for sewing)
Flexible measuring tape
Fabric marking pencil or pen
Fabric cutting scissors 
Seam ripper
Note - If you cannot find some of the tools listed don't worry – there will be some extra of all of these tools provided in the classroom to share.
Optional Tools
Sewing machines – If you own a portable sewing machine, bring it to class. Please test it before coming to class to know that it is in working order. Bring bobbins to fit your machine. We will be sewing very simple straight seams. If you do not own a sewing machine that you can bring, North House has a few machines. You will be welcome to use them and will be given basic instruction for their use.
Travel Iron/travel press board
Press cloth
Dates
Thu, Aug 24th, 2023 – Sun, Aug 27th, 2023
Course Details
Tuition:
$420.00
Materials fee: $70.00
Latest Update:

View recent changes →
Handwoven Wool Tote Bag