Hand-Crafted Brooms: An Introduction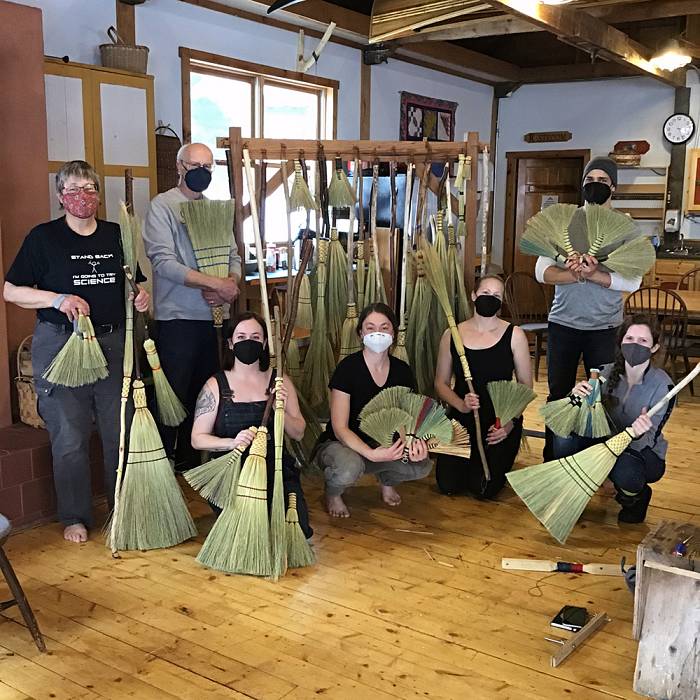 Course Overview
Experience traditional broom making from start to finish.  Students will explore design and construction methods as they prepare broomcorn and tree sapling handles. This three-day introduction to broom-making will cover a variety of styles including full-sized sweeping brooms, whisks, cobwebbers, and more as time allows. Students will explore the usefulness of this old craft, find a new appreciation for the various decorative and functional styles of brooms, and leave prepared to take on further broom making projects with confidence—not to mention an array of brooms ready to work and beautiful enough to hang on a wall! This class does require moderate hand strength. Being able to open a jar is an example of moderate hand strength. This course is open to students ages 16+.
Required Tools
We will be working with broomcorn that has been soaked in water – please wear pants that you do not mind getting wet.

Optional Tools
Feel free to bring your favorite tools and whatever materials you might feel appropriate for this course.
Your favorite carving knife
Unique broom handles

about 1" in diameter and 45" long for the sweeper
about ¾" in diameter and 24" long for the cobwebber
Dates
Fri, Feb 25th, 2022 – Sun, Feb 27th, 2022
Course Details
Tuition:
$285.00
Materials fee: $55.00
Latest Update:

View recent changes →
Hand-Crafted Brooms: An Introduction